A Community Early Intervention and Prevention Approach to the Problem of Disordered Eating among Vancouver's Youth
The emotional concerns of adolescence are documented and well known. Youth who present themselves to health providers may report physical complaints. However, the underlying problem may be an emotional one and need further assessment and or referral. Six per cent of adolescent males and ten per cent of adolescent females report feeling emotionally upset.
Some of this distress is over unhappiness with body image. Almost half of all female students surveyed are trying to lose weight while one quarter of young men are trying to gain weight (see figure 1).2
Figure 1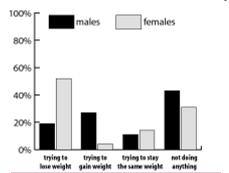 1998 survey of weight control behaviours among 26,000 BC youth, grades 7 - 12
In the Vancouver area, school counsellors, doctors, and school nurses have seen a growing number of young people who are food-restricting, bingeing, vomiting after eating, using diet pills and laxatives to lose weight, and becoming addicted to exercise. These youth generally do not fit the medical standard for anorexia or bulimia, but their unhealthy eating behaviour and daily struggles with food and weight have a significant impact on their general well-being. Adolescents need a healthy balanced diet for growth and development. Without early intervention, these behaviours can become a pattern leading to more serious illness.4
There is a dramaticallyincreasing prevalence of disordered eating among teens. Estimates for anorexia are as high as one in every hundred girls between the ages of 12 and 18 Bulimia is two to three times more common. Adolescents are at significant risk as most disturbed eating patterns begin during the teen years.3
The Healthy Attitude Program is a prevention program directed at youth who are at risk for developing serious disordered eating habits. The focus of the program is on using the Vitality approach of healthy eating, active living, and positive self-esteem and body image.1 This approach supports youth in developing skill, knowledge and coping ability at a time in their lives when the pressure to engage in at-risk behaviours is high.
The program provides information and support to individual youth who attend the weekly clinic. Youth may meet with a nutritionist, a counsellor, a nurse, or a doctor. This team of professionals is useful because the causes of disordered eating are complicated. It may be the result of many things happening in a person's life and may be different for each person. Eating problems can be related to nutritional choices and habits, physical health, emotional well-being, and social relationships.
Given all of these factors, the Healthy Attitude Program uses several approaches to care. These include education about food/nutrition habits and healthy eating behaviour, the connection between food and optimum health and the normal range of body shapes and sizes. Counselling is aimed at helping youth identify and cope with stress and to help them change unhealthy behaviour.
Youth learn that thoughts and feelings are not the same, and that they can make choices about the actions they take. They also can learn to practice 'thought stopping' to help with negative self-critical thinking, over-focusing on appearance and comparing to others. They are supported to avoid activities or people that don't help them to be healthy and to find resources that can help them to fulfill their goals.
The program is youth-centred, in that it asks youth to think about and make their own decisions about their health care. They are asked about what they would like to happen and with whom they would like to make their appointments. The program is free to youth ages 11 to 24 in the Vancouver/Richmond area. They must not be medically at risk and need hospital care. All information is kept confidential.
Those wanting further information about the Healthy Attitude Program may call South Community Health Office and speak with the manager or one of the child and youth community health nurses.
The Healthy Attitudes program operates on Thursday afternoons from 2 – 5pm, and is located at 3405 Knight Street @ 49th St in Vancouver. Call (604) 321-6151 to make an appointment or a referral.
About the author
Janet is Community Health Nurse for the South Community Health Office in Vancouver
Footnotes:
Health Canada (1994). Vitality Leader's Kit. Ottawa: Government of Canada.

McCreary Centre Society. (1998). Mirror images: Weight issues among BC youth.

Phelps, L. & Bajorek, E. (1991). Eating disorders of the adolescent: Current issues in etiology, assessment, and treatment. School Psychology Review, 20(1),9-23.

Rosen, D.S. & Neumark-Sztainer, D. (1998). Review of options for primary prevention of eating disturbances among adolescents. Journal of Adolescent Health, 23(6), 354-363.