Historically, women have been more identified with their bodies than men. When we look at today's women's magazines, television shows, and advertising, we are surrounded by women of the same colour, shape and weight. As the Anorexia Nervosa and Related Eating Disorders (ANRED) web site points out, reading between the lines of what the media are offering us reveals a message: "You are not acceptable the way you are. The only way you can become acceptable is to buy our product and try to look like our model." When thinking about this message, we necessarily come to wonder about its origins. The ones to blame are usually the media themselves; however, the media is created by us, the constituents of the society.
We need to start looking at the broader cultural implications of what we see and what happens to women in general. A victim of anorexia asks: "Why are we letting society do that to us?" However, posing a question like that assumes that society is a body with a life of its own. What is it in us, human beings, that enslaves us to the messages offered by the media? This 'slavery' is a particular issue with eating disorders, which somehow surface in societies with the greatest abundance and material well-being.
Critical reading
If you are a regular reader of women's or bridal magazines, maybe you no longer consider what quotes like these will do to your mind and body:
"Need to lose a little weight before your wedding?… Every day, enjoy a delicious shake for breakfast and lunch, followed by a sensible dinner… Lose Weight. Feel Great." Dietary supplement ad in Weddingbells, several pages after pictures of wedding dresses for plus-size women.

"Join us and get Beach Beautiful for about a dollar a day. Lose 2–5lbs in the first week!" Ad in the Georgia Straight immediately after an article on eating disorders.

"I have to watch what I eat as I'm naturally prone to curviness." Claudia Schiffer in Marie Claire — as if curves on a female body were a bad thing.

"I plan to be photographed in the gown every five years. It is the carrot I'm using to keep my weight under control and my body fit." Article on how to preserve your gown from Today's Bride — as if we can never allow our bodies to age and change shape as we age.

"Celebrate the first day of autumn. Play touch football (and burn 488 calories an hour) or take a hike late in the afternoon (366 calories)." Calendar suggesting what to do on a specific day of September in Self magazine.
Feminist view
Feminism has interpreted this phenomenon in terms of power and privilege in society . Susan Bordo in her book Unbearable Weight reveals a deep societal contradiction when she says: "When a patient complains of her body and insists on being thin … she is accused of flawed reasoning and misperception of reality that the therapist must work to correct," but we need to realize that there is a widespread cultural disorder where, "culture not only has taught women to be insecure about their bodies, constantly monitoring themselves for signs of imperfection, constantly engaged in physical 'improvement'; it also is constantly teaching women (and, let us not forget, men as well) how to see bodies." So how 'flawed' is that patient's reasoning, then?
This 'seeing' is done primarily through the media, because what we see around us is not what we see in the magazines or on TV shows, even though we are surrounded by diversity of ethnicity, age or body shape. Why then do we forget about this diversity once we open the fashion magazines or turn on our favourite TV show? What happens to our minds? Do we just like to pamper the part of us that wants a simplistic view of reality devoid of any imperfections and project ourselves into a fantasy of what it would be like if…? Many make every possible step in the direction of this fantasy, no matter what the cost is; and they are encouraged on the way there — with sermon-like messages reinforcing that this is the right way — in the quest for the ideal look that will bring them so much credit in the eyes of the opposite sex and among women themselves. This credit is equated with success, since society defines success as being a thin, almost artificial individual. Ironically, in Western societies like ours that base their existence in plurality and freedom of expression, it takes real courage for women to be different.
Change
What can be done about this? Some advertisers are leading the way in the attempt to alter this perspective by running positive body-image campaigns. From time to time, women's magazines publish articles featuring stories of women successfully overcoming eating disorders. Unfortunately, the articles usually reflect the overall perspective of the magazine, and come across in a rather simplistic way, focusing on the individual and not the wider societal implications, and are often followed by ads promoting the very ideal or dieting products that nearly killed the victim.
The first few positive campaigns on the road to changing women's perspectives appeared at the end of the 1990s, and include Kelloggs' cereal ads featuring men talking about their bodies the way women usually do, with the implicit message stating that it doesn't have to be so. One man says, "I have my mother's thighs. I have to accept that." The underlying message is "Men don't obsess about these things. Why do we?" The company also launched the "Reshape Your Attitude" campaign in 1998 with educational videos. The Body Shop tries similar tactics by using a Rubenesque version of Barbie, size-18 figure, in their posters. Their motto is: "The media tells us that we're the wrong shape, the wrong colour, the wrong class, the wrong hair type, the wrong salary, the list goes on…w e believe that we should all be celebrating our individuality."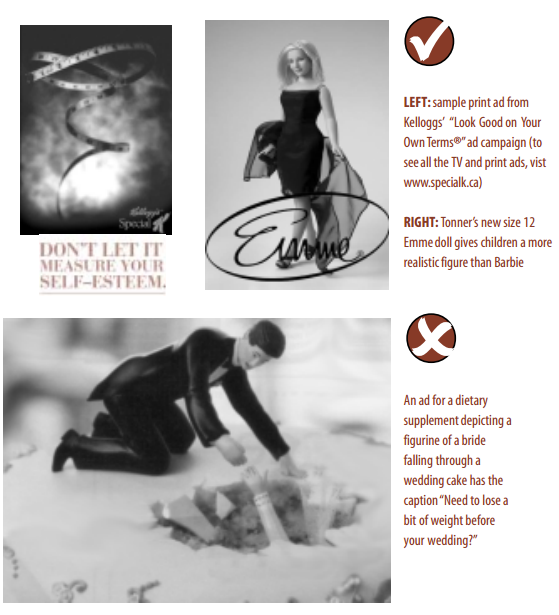 One can find some useful documentaries of personal accounts of people's fight with eating disorders, such as Dying to Be Thin by NOVA television. There are also organizations that focus on analysis of advertising and lobbying for improvement of media standards such as Media Watch (www. mediawatch.ca) and Ad Busters (www.adbusters.org). I hope that this article has inspired you to think about the role of the media and the broader societal implications of the phenomenon of eating disorders. I will conclude with a simple quote that says it all and sends us smoothly to the way of living we should pursue.
About the author
Dana is a Masters of Political Science co-op student from Simon Fraser University currently working in CMHA BC's Education Department