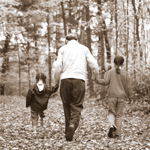 Family trees are not only one tree, but a forest of trees connected by the roots in the ground they share. Some blossom, and bear fruit. Others produce only autumn leaves.
The twisted, knotted roots—nameless, faceless ancestors—exist below my life's horizon.
Nothing is known about my dad's family, except there were many brothers, all in eastern Canada.
My mother's family tree is well documented. Grandpa fought in World War I. He and Grandma had a son and two daughters. I remember that he was a stern man when he was very old. Grandma, though, was always smiling—a façade? I wonder. While I was growing up, there were whispers that hinted of mental illness among Grandpa's siblings—he had eight sisters.
Mom and Dad had four children. My aunt and her husband had three. My uncle had no children.
We are now a family of only 16: I have two surviving siblings, three cousins, four nieces, two nephews, three great-nieces and one great-nephew. It's very unlikely the number will increase in my lifetime, but it will likely decrease.
I'm the only one among the 16 who has been committed to the psychiatric wards of St. Paul's Hospital in Vancouver.
My uncle, Danny, lived his short, troubled alcoholic life in the beer halls of Vancouver's Main and Hastings streets in the 1960s and early '70s. He would drift through family dinners and picnics in Stanley Park on the fumes of the beer he was always drinking. Almost totally inaccessible, he—like me—had a very bad temper. I never had much chance to talk with him, and my memories of him are sketchy.
With his "un-named" mental illness, Uncle Danny was committed to Riverview Hospital in Coquitlam on many occasions. He was married once, but his First Nation wife died young, of alcoholism. How her death must have affected his mental illness! He only lived to be 45 years old.
I've seen pictures of my uncle when he was a child, back in the mid 1930s. In photos my uncle and I look very much alike. Did we the same "shadows" in our eyes as children? Does the same "tree sap" of mental illness and alcoholism flow in my veins? Is that what really connects us on the family tree? Genetics? Faulty "wiring"? Or, circumstances?
In junior high school, feeling incomplete, like a false person—I started drinking. There were big chunks of "me" missing. Hollow, I filled myself with gin. Later in life I filled myself with physical pain, cutting my wrists and arms to make up for the emotional emptiness. My own "un-named" mental illness—the grinding, never-ending darkness of depression—was crushing me.
Looking back, it's easy to see why I started drinking. My family moved midway through my seventh grade. New school. No friends. And I was really struggling with my identity, and the depression.
Even now I feel I need a drink every day. But I refuse to have alcohol of any kind in the house—not even wine for visitors.
After a suicide attempt in 1987, when I was 29, my mental illness was finally "named": borderline personality disorder. For a 10-year period I was hospitalized almost three times a year, every year—it was the worst decade of my adult life. I was drinking wine coolers, overdosing on prescription drugs and cutting to commit suicide. I still felt so empty and couldn't "help" myself.
I'm now 55 years old, 10 years older than my uncle was when he died. He wasn't helped with psychiatric drugs, or electroconvulsive therapy, or counselling, or cognitive therapy. But I have been.
My grandparents, parents, uncle and eldest brother are long gone. The family tree seems more and more lifeless. The boughs and branches are losing vitality. Memories of green…
My family hasn't knowingly helped or hindered my progress toward wellness—only three people know or have known specific details of what my life has been like: my wife, one of my cousins and my late aunt. Why do I still keep my secret from the rest of the family? Shame.
I'm not a parent. This was a conscious choice on my and my wife's part. I was afraid any child of mine would also experience the pain. I would not have been a good father—I was too unstable during the child-bearing years of my marriage.
Of my three siblings, only two have had children. Only one of my three cousins has had children.
Is one of these children going to become ill? Will there be "shadows" in his eyes? Will she get the help she needs?
Do my nephews, nieces, great-nephews and great-nieces see me as I used to see Uncle Danny? As mentally ill? Unstable? A drunk, even though I'm not drinking now?
Are their own family trees—sons and daughters yet to be born—going to blossom and produce fruit, or will they bear only autumn leaves?
About the author
Winter has been a mental health services consumer since 1987, and has been writing fiction and non-fiction since high school. His fantasy short stories and mental health articles have been published both locally and nationally, online and in print