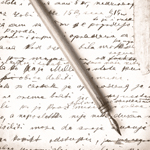 In August 2011, my mother passed away at the age of 80. It was sad for me to lay to rest this woman who had caused the family so much pain—it seemed I would never get an explanation for all the years of her strange behaviour, paranoia and rages.
It had been clear that Mom suffered from mental illness. Even at the age of six, I knew that a lot of what she said didn't make sense—stories about people following her, poisoned tap water, coworkers slipping drugs into her coffee… And then there was the time she told me she had leukemia; she didn't. I was often not aware of the 'events' causing her distress, but I couldn't help but see the repercussions, like the crazed look on her face and the hysterical crying. As an adult, I visited her on psychiatric wards time and time again.
In Mom's home, after her death, I found journals dating back 34 years—thousands of pages of journal entries, starting when my brother, the youngest of we four siblings, left home. From that time on she apparently wrote obsessively.
I wanted to keep the writings, but my siblings—I was the middle of three daughters—wanted them destroyed. We already had a collection of "the evidence"—letters Mom had sent us over the years, many of them that remained unopened. We knew it was 'crazy' stuff and didn't talk about it. They just wanted to move on, but luckily, I won out. I told them everyone has their own way of dealing with things and that I needed to read through them in search of some answers. They knew Mom had disliked me most, so gave their permission.
I was excited, yet nervous, to delve into the journal pages. And finally I got to see her world; before that I only got to see snippets. As I read through the journals, I was shocked to discover how ill she really was. It wasn't something that flared up once in a while like a trick knee—it was her life.
The journal pages were filled with horrific tales of the torment inflicted on her by her lifelong fictitious adversaries, the ones she called the "TIN GODS." Sadly, I remember often being accused, when I was a child, of being a tin god. "You're one of THEM," she'd cry. "They got to you, didn't they?" I'd stand quietly, afraid to speak. I knew not to rock the boat.
In the 1970s mom spoke of "THEM" and "THE POWERS THAT BE." By the late 1980s, they were the TIN GODS, whose singular objective was to ruin her life. They were everywhere. They used the "method" to influence people into wearing certain colours, say certain words and act in certain ways while in Mom's company—to make sure mom knew THEY were there. Once I wore a yellow blouse—this was a sign from the TIN GODS. Knock, knock, WE are here.
The most surprising thing was that Mom never acknowledged having a mental illness. I had always thought she knew. After 60 years of hospitalizations, medications and psychiatric treatment, how could she not! But the reality she lived, as strange as it was, was 100% real to her. She writes how she knew no one believed the TIN GODS were stalking, tormenting and manipulating her. She wrote that these journals were to be written proof to all the disbelievers, so they would finally know she had been telling the truth all along. Mom writes that she felt ashamed and embarrassed, knowing what others thought of her, and she consistently referred to herself as the "VILLAGE IDIOT."
Mom lived within her own delusions. These delusions haunted her and made her daily life unbearable and her thoughts suicidal. She wrote: "In wartime it's called 'Torture'—in my life it's called 'Treatment.'" Her journals tell of her wish to die, but her fear of God kept her from committing this sin.
All these years—I am now 57 years old—I thought Mom was a mean and uncaring woman. But from her writings, I learned that what I saw outwardly was nothing compared to what was really going on inside. Inside she was barely hanging on. She was fighting a fight. She thought her fight was with the TIN GODS, but it went much deeper than that. Her fight was with mental illness.
I didn't know how desperately lonely she was. Mom claimed in her journal that her only two friends were the crisis line and "pen on paper." I thought she chose to be isolated. When, as an adult, I'd try to visit her at her home, her curtains would be closed and she wouldn't answer the door, though she was there. I thought it was because she didn't like me. But her fears were legion. And little did I know that she stayed away from people to protect them. Mom wrote of a friend she had in the 1980s and how she had to end the friendship when she noticed a sign that the TIN GODS had "got to her" and were using her to get to Mom. Mom wrote that she couldn't let her friend be mistreated by the TIN GODS and so sent her friend a letter saying good-bye.
Knowing what I know now, I wish I had done things differently. I wish I hadn't tried to 'fix' her. As an adult, I occasionally confronted mom, suggesting reasons why her tales couldn't be true. For instance, there was no evidence or reason that her neighbours were breaking into her home while she was out and moving things around. I naively thought that if I tried to reason with her she might snap out of it—after all, she seemed to be an intelligent woman. Unfortunately, it never worked. Mom would fly into a rage. If you confronted her, you were accused of being "one of THEM."
I wish I had been given better information to help me understand and make allowances for her behaviour. No one ever wanted to tell us anything. My mom was a single parent from the time I was six on, and I suppose the doctors wanted to protect us from the hard truth—"she's tired, she's working too hard." Then as an adult, I had no privy to information from her health care providers; only hypothetical discussions with my own doctor. Mom's siblings, too, right to the end espoused "just think about the good things."
If I could go back and change things, I would simply have been an understanding friend who listened without judgments or opposition—like pen on paper. I think that's what the crisis line workers did. I know that now.
I promised my siblings that I'd destroy the journals once I'd read them all—so some pages remain unread. I didn't get all the answers I wanted, but reading my mother's journals has been a big eye opener. I'm trying to make sense of it all. I want to use my mother's story for greater good—she says in her journal she was hoping to write a book. I continue to sift and digest…
Toward the end of her life, Mom wrote the following poem. For me...this says it all.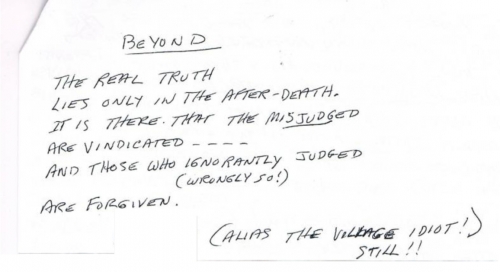 About the author
Debbie is an instructor of business and entrepreneurial courses in Vancouver, BC. She has also been a mental health advocate since the passing of her mentally ill mother in 2011