Moving beyond the four-pillar model
Reprinted from the "Indigenous People" issue of Visions Journal, 2016, 11 (4), p. 36
The four-fire model and the examples below are the culmination of more than 10 years of community knowledge, research, and Indigenous HIV-movement wisdom. This knowledge is the result of collective learning, listening and resisting done by many youth leaders and mentors of NYSHN and includes the lived experiences of young people, Elders, other community members and Indigenous peoples living with HIV. The knowledge thus does not belong to a single individual, and it is a living praxis that shifts with community needs and voices.
With staggering rates of HIV, Hepatitis C, and injection-drug use amongst Indigenous peoples, it is clear that current mainstream models of harm reduction and public health may not be meeting Indigenous peoples where we're at, or meeting our needs. What could harm reduction look like outside of urban centres in rural, northern and remote communities?
The four-pillar model and its limitations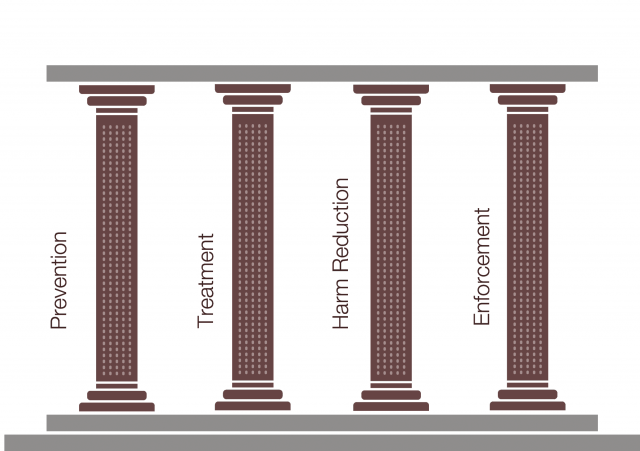 Indigenous peoples have much experience reducing harm in many ways—particularly harm caused by the violence of ongoing colonialism. Mainstream harm reduction models and practices, while they move in the right direction, do not always adequately meet the needs of those in northern, rural or remote communities. Indigenous peoples have many Nation-specific understandings and traditions that mainstream services often ignore or interrupt.
The four-pillar model is familiar to many harm reduction workers, academics and health policy analysts. But the interpretation and implementation of this model can sometimes work to uphold colonial ideals of health, power and oppression.
By shifting our focus away from particular interpretations of these pillars—like policing, prisons, court-mandated care and assuming that "risk" is individual instead of systemic—we offer here a critical analysis of what reducing the harm of colonialism can look like. We do not suggest a "one size fits all," prescriptive approach. Instead we offer an opportunity to reinterpret these ideas in community-specific ways that recognize the diversity of Indigenous peoples.
The four-fire model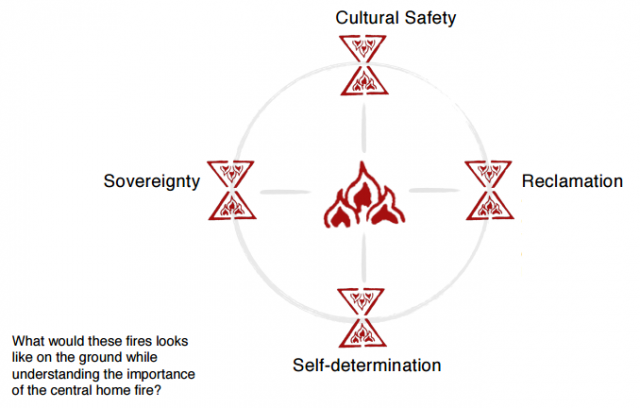 By focusing on community well-being and the restoration of various Indigenous knowledge systems, life ways, ceremonies, culture and governance structures, Indigenous peoples of may Nations and cultures can reduce the harm we experience in our lives.
The guidelines and examples below will help to increase insight into Indigenous understandings of harm reduction, but they are not meant to be comprehensive or exhaustive. Indeed, we hope community workers and advocates will use them to develop their own implementation practices. We ask that you respect where this knowledge comes from and identify the roots of your learning when you share this knowledge with others.
We understand harm reduction in this context as broader than simply substance use and meeting people where they're at with their use. While we respect and appreciate the work of safe injection sites, the provision of safer drug-use equipment, and so on, this is a systemic look at how harm reduction can be expanded and redefined by Indigenous peoples and communities.
Using the four-fire model
Cultural safety
"Acknowledge the power differences that exist between service provider and client/patient. Allow and create spaces for Indigenous peoples to feel safe to be our whole selves when receiving care."
For Indigenous community-based service providers and community members: Indigenous youth may not always feel safe and at home with their culture for many reasons. Allow them to name who or what kinds of support they are interested in having, or learning more about, whether they are traditional or Western/mainstream.
Work directly with Elders, knowledge keepers and traditional supports in your community. Build relationships and trust so you can make referrals with confidence, but be open to individuals' hesitations and concerns. Avoid shaming young people (or anyone else) for choosing a mainstream method or wanting to try multiple options.
Respectfully work with and gently challenge abstinence-based programs that cite "traditional values" as a reason for not allowing people who are using substances to access ceremony or traditional medicines. Being 100% sober all of the time may be an extremely difficult task; if it is a minimum requirement for support, many community members may not qualify. Create options that meet people where they're at, while respecting traditional and community protocols—like welcoming people into a space without them needing to actively participate, or ensuring there are people present who know how to work with individuals under the influence in respectful, humanizing ways to de-escalate any concerns or harmful interactions.
For non-Indigenous service providers and harm reduction advocates: Good intentions are often not enough. Be aware that you are part of the legacy of trauma and violence experienced by Indigenous peoples as a result of the actions of (even well-meaning) service providers, health care professionals and others. This means you must develop trust and build relationships while showing that you are making an effort to end that legacy. Actively inform the Indigenous and non-Indigenous people you are working with of your efforts, and be open to being held accountable for your actions or inactions, even if they were well intended.
For example, avoid complaining about or becoming frustrated by low turnout in medical programs or clinic settings. Have regard for the systemic factors influencing community behaviour. Not going to a clinic or hospital may actually be a form of harm reduction, since Indigenous peoples are often denied care and discriminated against, and even face death as a consequence of colonial attitudes of health care practitioners. Your actions can help to change this. Leverage the power and privilege you have for the benefit of Indigenous peoples. Advocate for meaningful involvement of Indigenous communities and individuals. If Indigenous people are only frontline workers or temporary staff, but not management, challenge this and endeavour to change it.
Reclmation
"Colonialism uprooted and distorted many structures and ways of life within our communities. Reclaiming cultural practices can strengthen us."
For Indigenous community-based service providers and community members: Talk with each other and actively listen to each other's stories. Make a sincere effort to not judge, and be aware of your judgments when they come up. Involve all kinds of leaders, especially young people, in discussions about how best to support one another. It can be hard to understand what really is "traditional" or "Indigenous," especially when things like religion, gender stereotyping and the taking away of our children all distorted how we pass on our values and practise our culture.
The resurgence of Indigenous understandings and identities of gender and sexuality is essential to our communities. Two-Spirit and gender-non-conforming people have always been at the frontline of resistance.
For non-Indigenous service providers and harm reduction advocates: Be comfortable with the uncomfortable. That is, learn how to talk about colonialism and recognize how you may be complicit in a system that supports colonial structures and practices. Be willing to support and advocate cultural activities—like ceremony—that don't fit into standard, Western disease-control models of effective prevention and treatment.
Self-Determination
"Allow individuals, communities and Nations to decide specifically for ourselves what works best for us."
For Indigenous community-based service providers and community members: Work with community members individually to find out what their needs are and what works for them, knowing these will probably differ from person to person. What you think is the main concern may not be the main concern for someone accessing services or looking for support. Maintain confidentiality and privacy as much as possible, even in small communities. Ensuring that basic needs—like food, clothing and safe housing— are met is a first step to building trust. After these needs are met, other issues can be addressed. People often develop their own coping mechanisms and strategies that should not be overlooked. For example, what is labelled as "problem substance use" may be helping with anxiety or trauma.
For non-Indigenous service providers and harm reduction advocates: Avoid a pan-Aboriginal approach to service provision. Don't assume all Indigenous peoples are the same or have similar traditions. For example, there are 198 distinct First Nations in BC alone. You don't need to be a cultural expert, but you need to be aware of cultural appropriation. Know whose territory, specifically, you are in, and the various communities you serve and share space with.
If you have more anthropological knowledge of Indigenous cultural traditions or practices than an Indigenous community member has, or has access to them, look at why this might be so. Consider the barriers that communities face in accessing their culture.
Sovereignty
"Principles like non-interference teach us to support and meet people where they're at."
For everyone: Court-mandated treatment is not the answer to everything, especially if those treatments or supports are not meeting someone where they're at, like requiring sobriety or non-use all of the time. Harm reduction is not always about reducing the amount of substances used. Harm reduction can be about identifying and knowing what behaviours or consequences are harmful, and knowing which of these can be reduced and for whom. For example, drinking alcohol may seem like a problem, but it can be far more dangerous to be thrown out of the house as a consequence of being under the influence, especially if this occurs in the winter.
For Indigenous community-based service providers and community members: If we focus solely on substance use, we miss the larger story—the systemic reasons that we, as Indigenous Nations, are facing such alarming statistics when it comes to sexually transmitted and blood-borne infections, as well as harm and death associated with substance use. We also must focus more on understanding the factors that contribute to this reality to avoid internalizing harmful beliefs about our communities and Nations as inherently bad or unhealthy. Trust that individuals know what is best for them in the moment. Shaming our people for struggling will get us no closer to restoring what was taken from us.
For non-Indigenous service providers and harm reduction advocates: Be a respectful guest and visitor. Honouring original agreements between Indigenous Nations, Indigenous peoples and settlers is just as important to this work as clinical practice.
Use of the word "Indigenous"
We use the words "Indigenous" and "Indigenous peoples" to highlight and credit the work of international Indigenous human rights defenders who made the United Nations Declaration on the Rights of Indigenous Peoples (UNDRIP) a reality that many nation states (including Canada) have now endorsed. The UNDRIP is based on international human rights laws and standards and reinterprets these baseline standards for human rights within an Indigenous context. We understand that health, rights and justice must be central to conversations about harm reduction.
About the author
NYSHN is an organization by and for Indigenous youth. NYSHN works across issues of sexual and reproductive health, rights and justice throughout the US and Canada