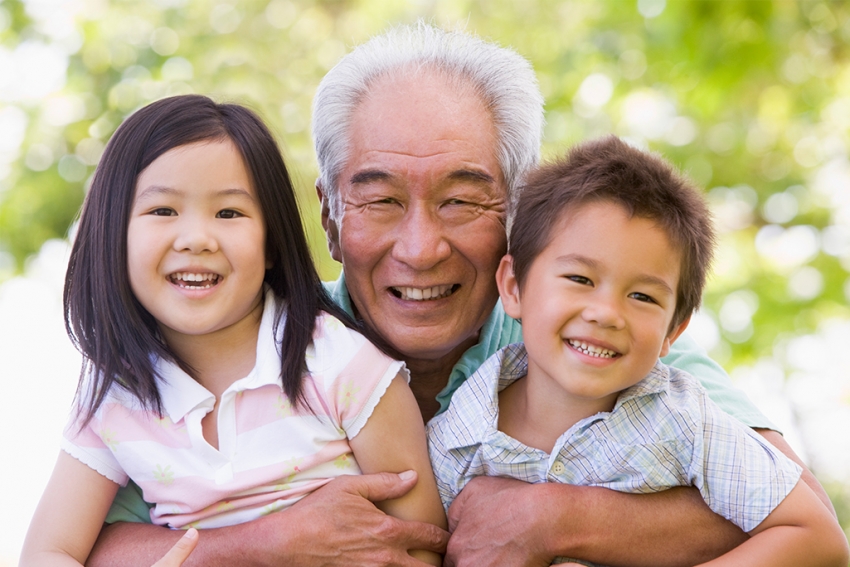 I was born in 1932, in Hong Kong. I have two older brothers, one younger brother and one younger sister. My father had a successful business as a wholesale herbalist. He was a stern and dominant man, somewhat like a dictator in the house. As a child, I was scared of him, scared to talk to him. My mother smoked, played mah-jong and went shopping with friends.
She was very active, but did not need to do housework because we had three live-in servants. It was a very typical middle-class family.
As a young child, I was very sick with dysentery and malaria. As a result, I attended kindergarten for two years and grade one for two years. My overprotective parents treated me as the weakling of the family. My inferiority complex must have had its origin in my childhood.
During World War II, Japan occupied Hong Kong. The memory of the horror of war—the dead bodies I saw from bombing and starvation, the brutality of the Japanese soldiers—could not be erased from my memory.
In 1943, we moved to Kwongchow in mainland China, just north of Hong Kong. This was where food was available. My mother suddenly developed acute glaucoma and became almost totally blind. This was around 1943, when I was in grade four. Since I was the oldest child living at home at the time, I had to be the "oldest brother" and help my mother. I learned to take care of myself.
It was very sad to have a mother who was blind. She couldn't do anything for us or for herself. I felt very frustrated. It was like having no mother at all. We saw little of my father, as he often came home from his business late in the evening. I do not remember home as a happy place.
My mother became very depressed because of her visual impairment. She suffered from insomnia for the rest of her life. She worried all the time as a result of the war.
After the war, my mother found out that her brother, an army officer, had died. She cried for many days and became profoundly depressed. Her deep grief was very hard on me. That winter, the whole family moved back to Hong Kong.
Life after the war was difficult. My parents fought all the time. I can't ever forget their hostile shouts at each other at midnight. I woke up frightened and wept with my head covered tightly by the blanket. All I could do was hope for the sun to rise.
I must have been in some degree of childhood depression, but didn't know about it. Back then, we did not know what depression was. I know I developed a pessimistic attitude towards life. I just saw the negative side of things. When I was in junior high school, Christian evangelists came to preach at our Baptist high school. They preached about a Heavenly Father who loved us. This was exactly what I yearned for—a father's love. I accepted Him with open arms (or vice versa).
After the war, my mother reconnected with friends who took her to church. She seriously switched from Buddhism to Christianity. I read a Christian devotional book to her daily because she could not read any more. It gave us both comfort and strength to face each new day—or, should I say, dark day. That helped both of us the most at that time. I read that book regularly even after I came to Canada.
I graduated from high school in 1952. I couldn't go to mainland China to further my education because China was in political turmoil. Fortunately, two Canadian missionaries in Hong Kong helped me come to Canada in 1953. I was shy and nervous, and I could barely speak English. But I was so glad to leave an overprotective, unhappy home. I was like a bird that had flown out of its cage.
Student years
The missionaries arranged a boarding home for me in Winnipeg, Manitoba. My landlady, Mrs. Fraser, was a kind, hard-working Christian widow. She treated me as her own grandson, with love and affection. This was something I've always yearned for. I studied science for three years in Winnipeg, then moved to Vancouver, BC to attend medical school. My father sent $400 a year for living expenses, so I had to make the rest myself. Fortunately, I was able to find work every summer.
During my years in university, depression was not a problem. I was occupied with studying. But it was the longest, hardest decade of my life. Life consisted of studying seven days a week, sleeping for eight hours a day and going to church on Sundays. There was no time for fun or relaxation. I remember seeing only two movies in those days.
After medical school
Starting in 1963, I worked as a family doctor at a clinic in Cowichan Lake on Vancouver Island. I married in 1964 and left Cowichan Lake the next year. In 1966, my wife and I moved to Boston so I could complete a one-year residency at Boston Children's Hospital. 
Building my family in Vancouver
My wife and I moved back to Vancouver in 1966, where I continued to work as a general practitioner. I think it was in the early 1970s when I began to experience depression. I became cranky, upset easily. That seemed to be the first sign. I would become unhappy with minor things in daily life, like if I didn't like the lunch my wife packed. I held all these feelings inside. I began to realize that I was impatient, had a quick temper and wanted everything done perfectly—the same characteristics of my father. My wife was gentle and mild, and afraid to reason with me because I always wanted to win the argument. I blamed myself and would feel unhappy and angry for many days. It slowly turned into depression. Some say that depression is anger turned inward. There is some truth to this belief.
I also had sleep deprivation. It was a busy life. There were no full-time doctors at hospital emergency rooms, so it was not unusual to get up at night to make house calls. By this time, I was the father of two children. And there were other problems: my wife and I had some relationship problems, and my parents came to visit every year. This was stressful, and I was very angry. There was a lot of infighting among leaders at my church. Some people didn't treat the pastor well, and I stood up for him. I lost friends over the disagreements and felt guilty about the conflicts.
My own family doctor was insensitive to my needs, so I switched to another doctor. This doctor was also a former classmate in medical school. My classmate saw right away that I was suffering from depression and lack of sleep. I was in my late 40s or so. He gave me a tricyclic antidepressant to try. I felt better within a few days. The depressive feeling was completely gone and I could sleep again. Life became wonderful! Unfortunately, I developed very unusual side effects after only a month. I tried a different antidepressant, but it also caused side effects. I had to discontinue them and live with the depression.
My wife was diagnosed with breast cancer in 1981. She survived the cancer but had severe depression and anxiety. I think she had a lot of anxiety about the cancer coming back, but I wasn't aware of her fear. My wife was seeing a psychiatrist, and I saw the same psychiatrist about my own depression. I tried other antidepressants, but they either didn't work or caused too many side effects. So I just put up with my depression.
My wife died in 1995 due to a second cancer. I felt such severe grief. In medical school, they didn't talk about grief. It was so unfamiliar and so bad. I was referred to grief counselling by my wife's palliative care nurse. I also listened to books on tape and read books on coping with grief. It took me eight or nine years to move through the process. In those years, it was not possible to separate my feelings between depression and grief. I lost the person I loved the most in life.
In retirement
I officially retired from medicine in 2000. I was a bit scared of retirement, so my family doctor referred me to a psychiatrist who only treats medical colleagues. He was so kind, mild and gentle. I have a feeling that his personal character has healing effects on his patients. I started taking Celexa, a newer type of antidepressant. It took a few weeks before I noticed the good effects on my depression, but it did start to work. The psychiatrist indicated that some patients need to use the antidepressant indefinitely, and I now believe I am one of them.
I have happiness, too. My wife was an excellent role model to our daughter and son. Both of them are building a happy and harmonious family. I have four loving little granddaughters. I have no worries for them.
A couple of years ago, my son and daughter-in-law renovated and enlarged my house. Now I am living in a bright, roomy and comfortable basement suite. I have space to have ten people over for dinner. I am continuing the family tradition of inviting friends for a casual meal at short notice. I also have space to do artwork and painting—it was my wife's last wish—and space for a bible research library.
My son and his family live upstairs. In my old age, I am not alone. The two little granddaughters, ages three and five, come down every day and make joyful noises—for a little hand-out of banana chips or something sweet.
About the authors
Ken is a retired doctor. He lives in Vancouver with his son and grandchildren

Stephanie is Editorial Assistant for Visions