Reprinted from the "Families" issue of Visions Journal, 2013, 8 (3), pp. 7-9
On November 5 and 6, 2012, a special gathering took place at the Wosk Centre for Dialogue in Vancouver. Over 150 people—including family members, government representatives, service providers and educators—came together with a particular focus in mind: moving toward a more family-friendly mental health and substance use care system. The event, convened as part of the Healthy Minds, Healthy People Knowledge Exchange Series, was designed to put the experiences of families front and centre. This event was hosted by the Healthy Minds/Healthy People Directorate, which sits within the BC Ministry of Health and includes participation by the BC Ministry of Children and Family Development. The dialogue generated at the knowledge exchange event will inform the development of a cross-sector family mental health and substance use action planning framework, led by the BC Ministry of Health and scheduled for release in summer 2013.
Listening to Family Expertise
Readers of Visions will be very familiar with the power of story and its potential for transporting an audience into new worlds of understanding. Stories also have the potential to inspire system change, especially when they are based on the storytellers' up-close and first-hand experiences. Specifically, when combined with data, stories of lived experience can have a direct impact on policy-makers and the decisions they make.
In recognition of the power of story, the Canadian Mental Health Association's BC Division (CMHA BC), alongside a number of other agencies, designed two panel interviews for the day-long event. One panel was made up of four family members, each carrying diverse experiences of engaging with the mental health and substance use care systems. In addition to their personal experiences, each of the family member panelists also worked within family-centred community organizations. The second panel featured five people who work within the mental health and substance use care systems. They represented various clinical and social service positions in the public and non-profit sectors, including perspectives from the Ministry of Children and Family Development and Aboriginal health.
With each of the panels assembled, I completed two distinct, yet connected, interviews of the panelists.1 I intentionally interviewed the family panel first. Often, the knowledge of clinicians, researchers, or decision-makers can be elevated above the knowledge of family members or those with lived experience and is viewed as having more validity. Completing the interview this way provided a vivid set of family member experiences for the second panel to respond to, helping to ensure family experience was centred throughout the dialogue.
Questions for Change
Can you catch us up about some of your ideas for action related to families and the mental health and substance use care systems?
What would you say are some key areas of existing strength and capacity?
Based on the conversation we have discovered so far, what's possible here and who cares?3
If our success in designing a mental health and substance use care system more responsive to families was completely guaranteed, what bold steps might we choose?3
One of my starting questions for each of the panels was, "If our mental health and substance use care system had families at its centre, what would it look like?" This question, and the questions that followed (see sidebar), gave the panelists an opportunity to think out loud together and weigh in with their ideas about how to transform our system. I also invited audience members to share their reflections and become involved in the conversation.
Panelists and audience members demonstrated a remarkable generosity with their stories and ideas, all contributing to an important shift at the event: the distinction between "family member" and "service provider" started to collapse. Audience members were invited to share their responses to the following question: "As you listened to the lives of the people who were at the centre of these interviews, which expressions caught your attention or captured your imagination?"2 Person after person responded to this question, readily identifying with the themes that emerged during the interviews: stigma; the difficulties linked to engaging with a complex, and at times uncoordinated system; and the experience of being excluded as a family member from a loved one's care. Many of the audience members who responded prefaced their comments with a description of their job or role. As the dialogue progressed, however, the respondents spent less time describing their professional connection to mental health and substance use, moving quickly to sharing their own lived experience, individually or as a family member. It was no longer about those family members. It had become about all of us as family members.
So, what did we hear and learn?
Each of the panel interviews generated a number of guiding questions about how to design a more family-centred mental health and substance use care system: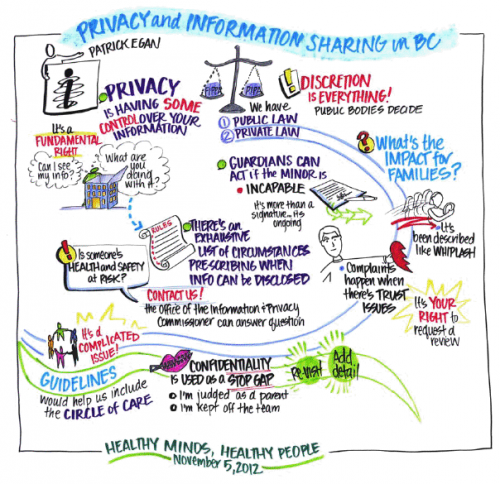 (Click to enlarge)
This is a graphic recording created by Lisa Arora. It visually captures a presentation delivered by Patrick Egan, Senior Investigator, Office of the Information and Privacy Commissioner. It juxtaposes some of the foundational legal and policy issues framing privacy, confidentiality and information-sharing alongside some of the experiences of family members engaging with the mental health and substance use care system. Reprinted with permission of the BC Ministry of Health.
Tackling stigma and discrimination (e.g. How can the system better support service providers to trust family members, like parents, and better include them on the care team? What needs to happen to ensure that family members do not feel blamed as a result of their loved one's need for treatment and support?)
Creating a more coordinated system of care (e.g. How do we ensure every door is the right door, especially when mental illness and addiction are co-occurring? What needs to happen to streamline the requirements for multiple layers of consent to share information that do not necessarily transfer across systems?)
Ensuring families have the opportunity to be active partners in the care of loved ones living with mental illness and/or substance use problems (e.g. How might the system better recognize that family members are often integral to the ongoing recovery of a loved one once they are back at home? What would things look like if family members were invited into conversations about ongoing care in more meaningful ways?)
Examining how issues related to privacy, confidentiality and sharing personal health information might impact families' experiences of the system. This issue was identified as a critical area for exploration and more consideration of this topic is provided below and in the graphic accompanying this article.
Privacy, confidentiality and sharing personal health information
Privacy is a fundamental right designed to give an individual some control over how their personal health information is shared and used. How to balance the individual's right to privacy with the needs of family members, who can make helpful contributions to their loved one's care, is a complex issue. Privacy and confidentiality have far-reaching impacts upon the relationships between individuals receiving care, their families and their service providers. One family member described feeling "judged" as a parent, and noted that confidentiality about their child's status was used as a way to keep them "off the team." Some described anxiety about not knowing the next steps of the care plan for their loved one, though others reported a good balance between respecting the privacy of the loved one receiving care while informing the family as much as possible.
Moving forward
The issue of privacy, confidentiality and sharing personal health information is an important one; it affects many people connected to the mental health and substance use care systems. To follow up on the dialogue that took place at the knowledge exchange event in November, CMHA BC Division is working on a project that looks at these issues as they unfold here in BC. This project will make recommendations for how the system, service providers, individuals accessing care, and their families can have a better experience when it comes to privacy and information sharing.
The project, funded by the BC Ministry of Health, started in February 2013. Our work at CMHA will include an in-depth exploration of the research in this area, an examination of what is working and what is not working, and the development of guidelines to improve practice across the system. One of the guiding principles of this project is to engage with and consult individuals, their family members, service providers, policy-makers and a broad range of community organizations.
What do you think?
We invite Visions readers to become involved in CMHA BC's privacy/information-sharing project. If you are an individual or family member who has accessed the mental health or substance use care system, and you would like to share your story about the issues of privacy, confidentiality and sharing personal health information, email us at privacy.project@cmha.bc.ca.
About the author
Jonny is Director of Public Policy and Campus Mental Health Initiatives at the Canadian Mental Health Association's BC Division. Jonny's portfolio includes a broad cross-section of public policy priorities related to mental health and addictions including access to care, poverty reduction, housing, and justice
Footnotes:
This interview borrowed upon the ideas of the late narrative therapist Michael White and from Indigenous peoples' traditions related to storytelling and witnessing.
Adapted from White, M. (1995). Re-authoring lives: Interviews and essays. Adelaide: Dulwich Centre Publications.
Adapted from Vogt, E., Brown, J., & Isaacs, D. (2003). The art of powerful questions: Catalyzing insight, innovation, and action. Mill Valley, CA: Whole Systems Associates.