Mental health and substance use information you can trust.
Seven agencies came together for this project as the BC Partners, because we recognize that people need to have access to quality information on mental health, mental illness, and substance use problems.
COVID-19 issue of Visions Journal
The COVID-19 issue of Visions Journal is out! In this issue, you can learn new skills to help you take care of your mental health, find extra support, and connect with British Columbians as they navigate the pandemic. Read COVID-19 >>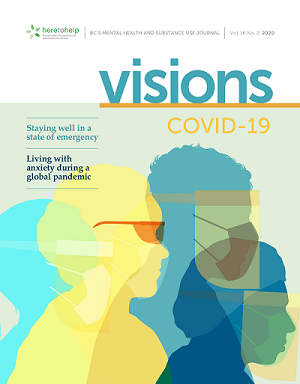 Are you a parent navigating your mental health while you support your family?
We want to hear from you! We're recruiting writers for an upcoming issue of Visions Journal. Learn more >>
Join Visions' editorial board
Do you have work experience in mental health or substance use systems? We're looking for editorial board members to help shape the topics and directions of Visions Journal. Learn more >>