HeretoHelp is a project of the BC Partners for Mental Health and Substance Use Information.
We are a group of seven leading mental health and substance non-profit agencies. Since 2003, we've been working together to help people live well and better prevent and manage mental health and substance use problems. Learn more about our vision.
BC Partners work is funded by BC Mental Health and Substance Use Services, an agency of the Provincial Health Services Authority. We also receive some additional support from the Ministry of Children and Family Development. Thanks also to our corporate sponsors for helping to fund our translated resources.
If you would like to reproduce, adapt or distribute our material, please consult our Copyright and Terms of Use policy; the limits of our information are described in our Disclaimer. If you would like to have your existing content considered for our site, please see our Submitting Resources page.
BC Partners organizations

Increasing awareness about anxiety disorders, providing education and increasing access to evidence-based resources and treatments
#811 - 402 West Pender St
Vancouver, BC  V6B 1T6
604-620-0744
info@anxietycanada.com

Providing support to people with serious mental illness and their families, public education, advocacy, and research
1100-1200 West 73rd Ave
Vancouver BC, V6P 6G5
604-270-7841 or 1-888-888-0029 (toll-free in BC)
bcss.prov@telus.net

Promoting the mental health of all British Columbians through education, advocacy, research and direct services
905-1130 West Pender St
Vancouver, BC V6E 4A4
604-688-3234 or 1-800-555-8222 (toll-free in BC)
support@cmha.bc.ca

Building knowledge for societal change
Health and Wellness Building, Room 273
2300 McKenzie Avenue
University of Victoria
Victoria, BC V8P 5C2
250-472-5445

FamilySmart provides information, resources, navigation assistance, and support to families or caring adults of children, youth, or young adults with mental health and/or substance use challenges
916-2025 Willingdon Avenue
Burnaby, BC V5C 0J3
604-878-3400 or 1-855-887-8004 (toll-free in BC)
info@familysmart.ca

Jessie's Legacy Program. Providing eating disorders prevention education, resources and support for BC youth, families, educators and professionals
203-1111 Lonsdale Ave
North Vancouver, BC V7M 2H4
604-988-5281 ext. 212 or 1-888-988-5281 (toll-free in BC)
jessieslegacy@familyservices.bc.ca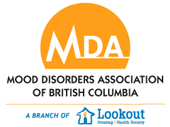 Providing support, education, and hope of recovery for all British Columbians living with a mood disorder or other mental illness
1030 – 789 West Pender St
Vancouver BC, V6C 1H2
604-873-0103
info@mdabc.net