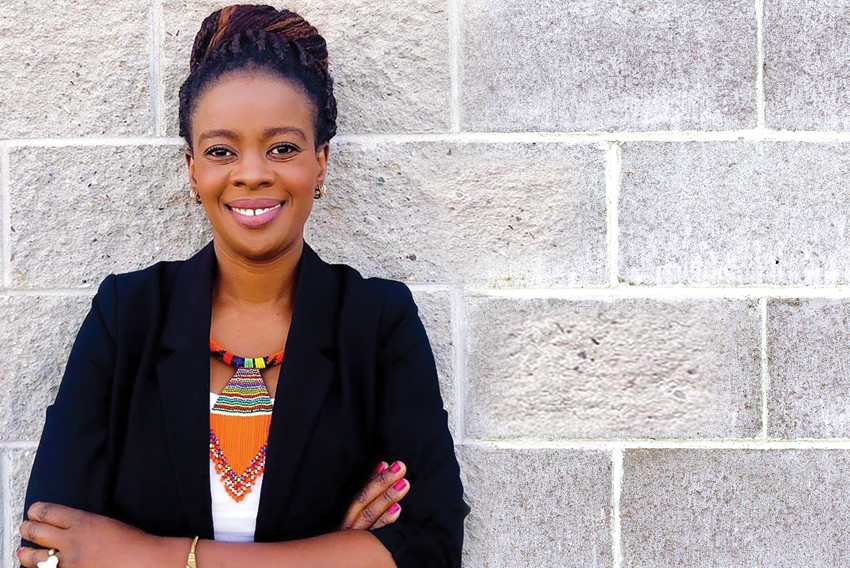 They say most people move to the North to find a job, or to start a career and then transfer to a big city. I moved here after visiting and falling in love with the Northern way of living. I was attracted to the close-knit community, better work-life balance and a larger, more challenging caseload that inspired professional development—and, no traffic.
On my first day, I was working at my desk at the end of the day when the lights went out. I walked out into the hallway, but it was dark and quiet. The next morning, I recounted this experience at the team meeting and my team laughingly asked why I was still sitting at my desk after 4:30. I quickly learned that, despite larger caseloads, most people prioritize spending their evenings on personal interests, family and social events.   
The joys and challenges of Northern living
When I first moved here, I was elated that I could bank, make a payment at city hall, grocery shop, drop off my groceries at home and eat lunch—all within my lunch hour! Trading an average of three hours of commuter traffic for a city where my home, office, gym, church, bank and most friends are all within 10 minutes of each other was certainly worthwhile.
Community is the mainstay of small-town living: we depend on each other, socially, spiritually and economically, and really pull together to support one another. Professionally, there is more collaboration between agencies. We are isolated so we tend to share and make good use of our limited resources.
I have run into people who sometimes erroneously characterize the North as the place to move to when life isn't working out somewhere else, or a place populated by "uneducated rednecks" with "outdated values and opinions." That could not be further from the truth. I am living proof that educated, open-minded Canadians live here because we love living here and enjoying all the North has to offer.   
Of course, living in a small Northern city has its disadvantages. However, while we lack four-star restaurants, large malls and 10-screen movie theatres, we enjoy living in a natural playground. We make the most of long summer days, and we indulge in hobbies and new interests to get us through the long, frigid winters. Life seems to unfold at a slower pace so relationships tend to be more meaningful and intentional, likely due to fewer competing interests.
Working in health care in the North has significant challenges. In the Lower Mainland, I had colleagues who specialized in anxiety, eating disorders and addictions. In the North, we are chronically short-staffed, so one individual fulfills all these roles, and much more. During my time here, I have served adults, children, geriatric and Indigenous populations. I have facilitated groups for addiction, anxiety and postpartum issues. I have also provided mental health support to a new birthing centre and to a new medical clinic with foreign-trained physicians, many working in a multidisciplinary team with colleagues in mental health for the first time. I also do corporate training, teach psychology at the local college and run a thriving private practice. I have enjoyed these roles, but not being able to specialize can mean being very good at many things but excellent at few.
Working with First Nations communities
My primary role has been providing mental health and addictions support to five local First Nations communities. The program was launched four years ago and is the first of its kind in Canada. It was created to reach clients who face significant barriers in accessing conventional mental health and addictions services.
As we know, stigma and racism directed towards First Nations continues to be a problem in Canada and is one of the main barriers to access to care. People have made derogatory comments about what I do and have asked why I choose to work with First Nations communities when I could be working anywhere else. I have also witnessed First Nations clients receiving poor treatment on many occasions because of their race. Other issues include lack of transportation, physical isolation, poor internet or phone connectivity, low literacy levels and poor understanding of the health care and social services systems, poverty and language barriers. Many clients have experienced trauma, which can be triggered in physically or culturally unsafe spaces.
Small collective communities often deal with dual relationships that lead to conflicts of interest. For example, the health liaison responsible for child protection calls may also be related to most young mothers in the community. The health care centre usually serves as the community's social hub, so it is almost impossible to ensure that confidentiality and healthy professional boundaries are maintained.
Accessing care can also be challenging for cultural reasons. For example, differences in our understanding of time and schedules can be a barrier for some clients. I often joke that the six people I see in a day are often never the ones I was scheduled to see, but always the ones I needed to see. We require that clients sign a consent form to access our services. Yet the practice of signing forms has a long, traumatic colonial history among many First Nations communities. Elders are revered in most First Nations communities, and their wishes are respected. However, sometimes those requests contravene client confidentiality or are in opposition to the requirements of licensing regulations.  
There are scarce employment opportunities in the North; many work in the oil and gas industry, which primarily hires men and usually demands long hours or long stints away from home (sometimes up to 21 days), which isn't conducive to family life. Sports and music programs, prenatal and parenting classes, couples counselling, the library and cultural and higher education opportunities are all located in town. This typically means a one- to two-hour drive on a clear day, but inclement weather for six months of the year can make the drive longer and more treacherous.
However, the beauty of this program lies in our ability to meet clients where they are. My experiences here have certainly been some of the most challenging, yet most rewarding, in my career. Working on reserve effectively and efficiently means getting to know individuals and their families, how they are connected, and their unique and collective strengths and challenges. This enables us to ensure that care is delivered in a culturally safe and sensitive manner. With time, we have been invited into sacred spaces and entrusted to share in birth experiences, diagnostic appointments that likely wouldn't have been scheduled otherwise, wakes and funerals. We have helped facilitate healing circles and we have been witness, support and advocates when children were removed from or reconciled with their families.
Being present has also enabled us to take advantage of spontaneous opportunities to engage, help and heal. We have done grief counselling in a smoke-filled shed as women skinned and smoked moose meat. We have done postpartum counselling while holding babies so moms could drink tea. We have counselled youth holding bannock on sticks over an open fire. Trauma is prevalent in the communities we work in. It is not unusual to hear "You're the first person I have ever told this" after a client recounts an experience of sexual abuse or the memory of being torn from their parents and home to attend residential school. In many communities, substance abuse, substance-induced psychosis and suicidal ideation have been normalized. And as in most communities, violence against women is a major issue; we continue to educate and empower women and men to stand up and speak out against violence.
Our greatest impact has been in building a bridge between reserves and mainstream programs. We have seen an increase in understanding of our clients and their needs, and increased access of services. We often liaise among communities, hospitals, specialists, BC Housing, social services, child welfare, spiritual leaders, schools, police and probation programs. On request by the First Nations communities, we also offer training on issues that are pertinent to First Nations health.
The future of clinical work in the North
I am grateful to have attended two fine institutions of higher learning in Canada. Although I credit my master's degree in counselling psychology with giving me a solid framework for clinical practice, I was disconcerted by how ill prepared I was to counsel multicultural and Indigenous populations. This is a disgrace, and it definitely made my transition to the workplace more challenging, given the significance of First Nations history in Canada and the multicultural make-up of our population.
Fortunately, I grew up in a collective culture, and there are strong similarities between collective cultures. Some shared values—such as the emphasis on relationship building, the celebration of cultural activities and the mentoring of the next generation of leaders—made it easier for me to find my way. My grandparents were spiritual—avid farmers who were deeply connected to the land. This augmented my appreciation for First Nations' beliefs in the Creator, respect for the land and the therapeutic benefits of nature. I have also enjoyed learning and trying new skills such as archery, horse riding, berry picking, carving, hunting and food preservation.
My hope is that more First Nations history will be taught earlier in schools, and our curricula will be modified to reflect the Canadian cultural make-up. This will better prepare future health care workers and communities to associate with and serve all Canadians in meaningful and culturally sensitive ways. We desperately need leaders with a vision for a collective and sustainable future that doesn't promote or sustain colonial ideology.
I also hope the BC government is able to establish programs that attract more skilled, knowledgeable and enthusiastic care providers to the North, and encourage them to stay. High staff turnover rates in our health care institutions are disheartening, particularly in First Nations communities that thrive on relationships built over time and are re-traumatized when staff leave.
Ultimately, the North is beautiful, in so many ways. We seem closer to the rhythm of the land and the seasons, maximizing our days without the noise and the traffic while we take care of each other. It is different in the North—in all the ways that count.
About the author
Shamalla is a proud Canadian and a native of Kenya. She has been a registered clinical counsellor in Northern BC for six years, running a private practice and serving as a mental health and addictions clinician on First Nations reserves. Prior to this, she worked with immigrants and refugees in the Lower Mainland