Navigating cultural expectations, stigma and the mental health care system in a small town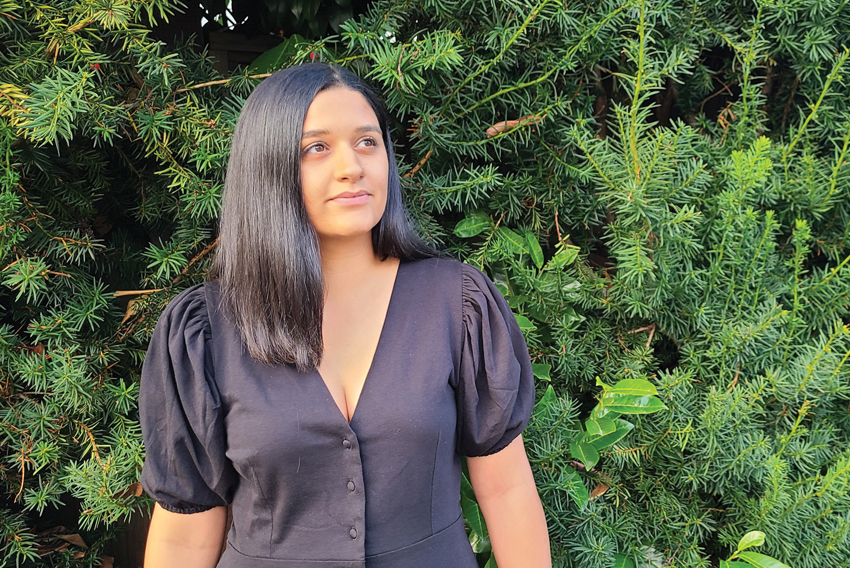 Growing up as a second-generation immigrant in a small Okanagan town of 5,000, I often felt like I had my feet in two different worlds: one that was deeply rooted in my Punjabi culture and the other where I tried desperately to blend in to a mostly white community.
My first language was Punjabi and I lived in a multigenerational home with close ties to India. I was surrounded by community members whom I called aunties, uncles and grandparents, even though we weren't related. We practised the Sikh faith in our living rooms until the community built a Gurdwara (temple). I loved performing shabads (hymns) on traditional instruments at community gatherings. Yet at school, I felt like I had to hide my Punjabi culture to blend in. I was embarrassed of my accent and hated being pulled out of classes to attend ESL sessions. I skipped eating lunch when my mom packed traditional foods and I was bullied for wearing Western clothing made out of Indian fabrics.
I knew I didn't fully belong in either world. I knew I would eventually rebel against the gendered expectations of my family and Punjabi community. I also knew I would never be able to completely let go of my culture, family and spiritual practices in order to assimilate.
As a child, I often felt alone, sad, unsafe, fearful and anxious. At school, I had no educators whom I felt comfortable to confide in. At home, we never spoke openly about our feelings. Issues like sexual abuse, domestic violence, addiction and suicide were completely taboo, even though we saw these growing up. So many men in my family and Punjabi community struggled with alcoholism, and we lost family members in Canada and India to suicide. When we heard the words "No one really knows what happened," we knew that we shouldn't ask any more questions. The silence created a vicious cycle of stigma: somehow, mental health challenges were always the fault of the individual. Like so many others in my family and community, I suffered in silence.  
I was 14 years old when I had my first drink of alcohol, which I stole from my uncle's liquor cabinet. I drank alone at night in the orchard. It was taboo for women to drink, and I can't imagine what would've happened if anyone in the family or the Punjabi community had found out. Reflecting back now, I see that drinking and using substances numbed the pain I felt from witnessing sexual abuse, alcoholism, racism and violence against women and not having anyone to confide in.  
After a year of substance use, I attempted to take my own life and was immediately flooded by scattered support from a fragmented mental health care team that turned my life upside down. I missed a year and a half of school, stayed for months at children's psychiatric units and spent much of my time being transported from one care space to another.
Living in a small town meant there were few mental health supports available locally. Either my care providers drove to visit me or I was driven to visit them. Every visit to my psychiatrist was a five-hour drive; my social worker would take me. When I spent months at a time in psychiatric units, my family drove four hours every time they wanted to see me.
I travelled 10 hours each week to see a traditional healer who my mom insisted would cure me. The healer would perform prayers to remove a curse that someone had supposedly placed on me. I would have to do more prayers at home until our next appointment. It frustrated me that my family was more willing to accept that I was cursed than to consider the environmental factors that were affecting my mental health.
Once, my visit to a healer was two months long—in India. Until we arrived, I had no idea that the "family trip" with my grandparents was actually a healing trip for me. I was in a constant tug-of-war between what my Western doctors thought I needed and what my family thought I needed. To everyone, I was the problem that needed to be solved, with either Western medicine or Eastern prayers.
I felt the greatest stress when my social workers visited me in town. I had the option of having an appointment in my family's living room or meeting with the social worker in a public park. Neither felt safe. I knew that my being seen day after day in public spaces with various white adults holding mysteriously thick binders would set off alarm bells for those members of the Punjabi community who saw me. I felt sick to my stomach every time I saw someone I once called "auntie" look at me, turn to her group and then invite everyone to look back at me. Had they forgotten that I was the same girl who used to sing hymns with their children at community events?
 My family kept my mental health a secret by staying silent. We never used the words "mental health" and my name in the same sentence. We let others make up their own stories. My extended family was told I had an undiagnosable physical condition, and my peers thought I had dropped out of school. I would hear my mom use the phrase "No one knows what is wrong" over and over. Rumours about me spread like wildfire. My friends told me their families thought I was pregnant and that my parents had taken me to India to get an abortion. The weight of this rumour—in a community where family honour is the fabric of society—was soul-shattering. My Punjabi boyfriend at the time was asked by his family to break up with me because they didn't consider me a suitable life partner; eventually, he did.   
I felt misunderstood: by mental health care professionals who lacked cultural competency; by my family, who did everything in their power to hide my mental health instead of listen to my concerns; and by my Punjabi community, which distanced itself so far from me that I felt shunned. I had nowhere to go.
I stopped talking to my friends and cousins. I stopped going to cultural spaces like the Gurdwara so that I could avoid running into people I knew. I picked appointment times with my family doctor during school hours so my peers wouldn't see me going to the office. I avoided sitting in waiting rooms. I refused care from any Punjabi provider because they all knew someone I knew, and I doubted that my privacy would be respected. When my social workers came to me for appointments, I met them in the most isolated parks. I even invested in a pair of oversized sunglasses thinking they would provide me with the anonymity I needed.
The longer I struggled and fought stigma and a fragmented mental health care system, the more I felt guilty and responsible for my mental health challenges. Why wasn't I getting better? Was it my fault? Did I do this to myself? I calculated the cost of each trip and wondered how my family afforded it. I often tried to just "get over it," somehow speed up the recovery process to reduce the burden I felt I was putting on my family. During this time, I lost a sense of home, belonging and identity.
The experience of being excluded in small communities—or feeling stigmatized by one's mental health challenges because everyone knows everyone and you have no privacy—is painful. I felt ashamed, silenced, numbed and forgotten. This is how I remember my life growing up in a small, tight-knit community. It often feels safer to stay silent than to find people to connect with again.
As time went on, however, I realized that staying silent just increased the weight I was carrying. As a young Punjabi woman, I also knew that rumour-fuelled community conversations about my sexuality were far more damaging than anything anyone could say about my mental health.  
I found ways to step out of the shadows, and I began to speak openly about my mental health. This didn't necessarily reduce the stigma I faced, but it empowered me to connect with my truth. My life trajectory shifted when I signed up for youth volunteer programs and found adults whom I could trust. They became my anchors in a stormy sea. When I shared my mental health struggles with them, they listened, validated my experiences and often told me their own stories. They saw me, heard me and created space for me to engage in community.
The day I graduated from high school, I packed everything I cared about in my car and drove out of that town. A part of me had needed to leave all along, but my guilt and shame had kept me there until it was socially acceptable to leave. I didn't stop speaking to my family. I just needed space to breathe.
I spent my early twenties exploring what became my life purpose: breaking the cycle of stigma and creating spaces for healing. I started off speaking about stigmatized topics and engaging youth to participate in community; eventually I began hosting cultural events where grandmothers, mothers and daughters could connect, share and celebrate. During this time, I also engaged in yoga, meditation, journalling and art; these provided me with opportunities to connect my body, mind and soul.
The healing process continues. Understanding my relationship with substance use has been challenging, but by actively listening to my body, I have learned healthier coping mechanisms. I have an incredible counsellor who has supported me in managing my post-traumatic stress disorder (PTSD) through culturally safe therapy and has helped me explore my relationship to substances in a safe environment. I have become better at recognizing my early warning signs, which I monitor through meditation and other practices.
My well-being is connected to the process of reconnecting to my culture, participating in community and being present with my family. My family still lives in the Okanagan (in an even smaller community), and I visit them often. I continue to host community events, especially for the Punjabi community.
I often remind myself that I am resilient, that I did what I needed to do to survive and that there is strength in me to keep moving forward every day. I now know the space I inhabit—between two cultures—can be nurturing, fluid and empowering.
About the author
Navjot grew up in the Interior of British Columbia and now lives in Coquitlam, BC. She has a master's degree in public health and works in the field of mental health and community engagement. She explores the themes of identity, healing and community in creative forms on her Instagram @_navjotk