The story of a single father of a child with special needs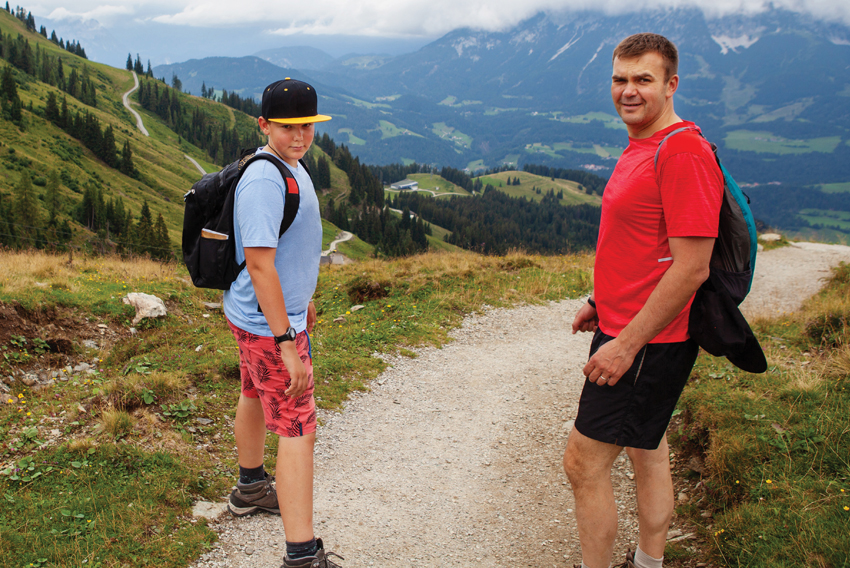 When my youngest child, Joseph,* was born, I knew he was going to be unique and high-
maintenance. He was a much higher-energy person than my other two children (Joseph's older brother and my eldest, a daughter from a previous relationship). Joseph would often have loud and violent, unpredictable outbursts. He didn't crawl; he just started walking. Even when he was sick, he was active; the only way we knew he was physically ill was when we took his temperature.
We tried to bring up our concerns about his hyperactivity with our family doctor, but we repeatedly heard that Joseph's erratic behaviour was due to diet and insufficient discipline. In other words, we were told indirectly that there wasn't anything wrong with our son; the problem was with us as parents.
Over the course of several years, there were many medical visits and a few trips to the hospital. But the outbursts and the hyperactivity continued. Joseph was going to do what he liked, and he seemed to have no fear. We had countless arguments with medical professionals as we tried to get someone to see and understand our son from our perspective.
The challenges of raising a child with special needs took their toll. After a few years, my wife and I split up. I didn't see the boys for two years after the split. I would speak to my older son on the phone, but Joseph didn't like talking on the phone. The boys lived in Williams Lake with their mother; I lived in Dawson Creek. It was a seven-hour drive, so visiting was difficult. Eventually, though, I began booking vacation time so I could pick up both boys and they could spend some time with me.
But parenting Joseph continued to be a challenge. One morning, when Joseph was eight years old and both boys were living with their mother, I received a phone call from the Ministry of Children and Family Development (MCFD). I was asked if I would take on the full-time care of Joseph or sign a release to give him up for adoption. Of course I told them I would be there the next morning to pick him up. For the first seven years of my life, I was in foster homes before I was eventually adopted. Being in foster care was not a pleasant experience; my adoptive life was no picnic either. I was not going to have my child go through that.
At the time of the phone call, I was visiting my father in Smithers. So, the next morning, I made the six-and-a-half-hour drive to Williams Lake from Smithers. Then we drove home to Dawson Creek—another seven-hour drive—and Joseph came to live with me.
Within the first month of living with me, Joseph attempted suicide—and he was only eight years old. This was not good. I went to Child and Youth Mental Health (CYMH) and requested help. CYMH flew in a specialist from Children's Hospital, and they worked with him for a while. The specialist diagnosed Joseph with attention deficit hyperactivity disorder (ADHD) and started him on medication.
At first, the meds made things worse for Joseph. For example, one morning I received a call from his school, where the administration had had to lock him in an empty room with an adult to keep him from running away or harming himself. I went to the school and picked him up. I decided that the meds were wrong. We had another meeting with the specialist and various care providers (a counsellor, a Ministry representative, an anger-management team and an aide who worked with Joseph after school). As a group, we decided to try another medication. This time, it worked.
School started going well and we seemed to be in a good routine. We decided to move to Williams Lake so we could be closer to Joseph's brother and his mother. I got a transfer through work. Things went okay for a bit. Joseph was able to get some of the services he'd been receiving in Dawson Creek through MCFD in Williams Lake, and through the Boys and Girls Club. But he didn't spend much time with his mother; he always wanted to come home after a few hours. And the elementary school I enrolled him in didn't provide enough support; things started to get out of hand. Joseph would leave the schoolground when no one was watching, and no one would contact me or the police to say that he'd left. I would show up to pick him up after school, and no one would know where he was. I would be running around town looking for a young child. Fortunately, he loved to play in the park; most of the time, that's where I would find him.
Things got more and more challenging, and Joseph's behaviour became harder to manage. He would smash toys and throw things when he became angry, or he would storm out of the classroom. And sometimes it was difficult for those who didn't know him well to know if he had really lost control or was just being mischievous. As his father, over time I had learned what his triggers were, and I had learned how to get him to refocus and calm himself down. At school, they didn't try to work with him to refocus; they just removed him from the class.
Finally, when Joseph was 11, I quit my job to stay home with him and support him. We had some help at home, but many support workers left soon after they started, for one reason or another. In some cases, they had personal reasons for leaving; in other cases, I asked them to leave when it became clear they didn't have a clue how to work with a child who has ADHD and they just made things worse.
During this period, my father became ill. Joseph and I moved up to Smithers to be closer to him. My elder son stayed with his mother, and by this time my daughter was busy raising her own family. In Smithers, I got a job in a dealership to support us financially. Joseph finished Grade 7, but since then has refused to go back. Homeschooling was never an option; he needs specialized one-on-one support and I just couldn't afford that.
CYMH tried to work with him but never consistently over the long term. People would come and go as they took up new positions, or sessions would stop if the support worker saw improvement. I also heard there were funding issues. But whenever the appointments stopped, inevitably Joseph would get worse again.
Over time, Joseph became anxious and depressed. He was quiet and slept a lot. He didn't like to leave his room. One day, the parent of a friend called me and asked about him; apparently Joseph had been posting dark thoughts on social media while I was at work. When I got home that night, I convinced him to see a doctor. Eventually he was prescribed antidepressants.
But the cycle repeated itself many times over the years. One February, when he was 17, he reached a very low point. He was suicidal. But the hospital was not an option as it would have put him in an even worse state. I was forced to quit my job again so that I could support him at home. In July of that year, he finally got to see a specialist.
Throughout those long months, I had pleaded to get him more sustained and consistent services. At first I was turned down because he was too young for the adult programs; our family doctor was finally able to get him accepted into adult treatment. But it was almost six months—February to July—before anyone in the treatment program was able to see him.
The specialist proposed to increase Joseph's antidepressant dosage over time. But we had to slow down the increases; it pushed him over the edge when the dosage got too high, too fast. Higher doses made him angry and hyper, and he had less control of his emotions. For example, if his shoe came untied and he found it difficult to re-tie, he would throw the shoe across the room and stomp out. We have also tried to find him another counsellor, but so far, we haven't been successful.
I have had to go back to work to support us financially. Joseph still lives with me, but now that he is an adult, I am no longer able to advocate for him as a parent within our health care system. Unfortunately, though, he doesn't know how to advocate for himself, either. Although I work with him as best I can, I am not able to give him all the help he needs.
It's still hit and miss when it comes to finding the right supports for him, but his depression and overall mood are great now. He is still on antidepressants, but he's no longer on medication for ADHD. His appetite is better; he grew three sizes the first year he was off the ADHD meds.
I believe that as long as he's with me and we do things together, like going on bike rides or travelling, he is content. I'm a pretty calm and reserved person, and I don't get excited or stressed out by change. I think this has been good for him; he has become more like me. But I feel he still needs support for his ADHD, which stops him from excelling in life.  
I support Joseph in his decisions and will always be there for him. When I think back on our life together, I am so thankful for the experience as it has made me a better parent. I would never change my decision to raise my child and I would do it all over again in a heartbeat. And I still have hope that together we will find the supports Joseph needs to live a fulfilling life.
About the author
Jim now lives in Telkwa, just south of Smithers, BC. He has three wonderful children and three very cute granddaughters. As an adult, he has moved around for work, living in small towns throughout the province, including Terrace, Kamloops, Williams Lake, Fort Saint John and Dawson Creek, to name a few
*pseudonym