How our Canadian Mental Health Association office came to be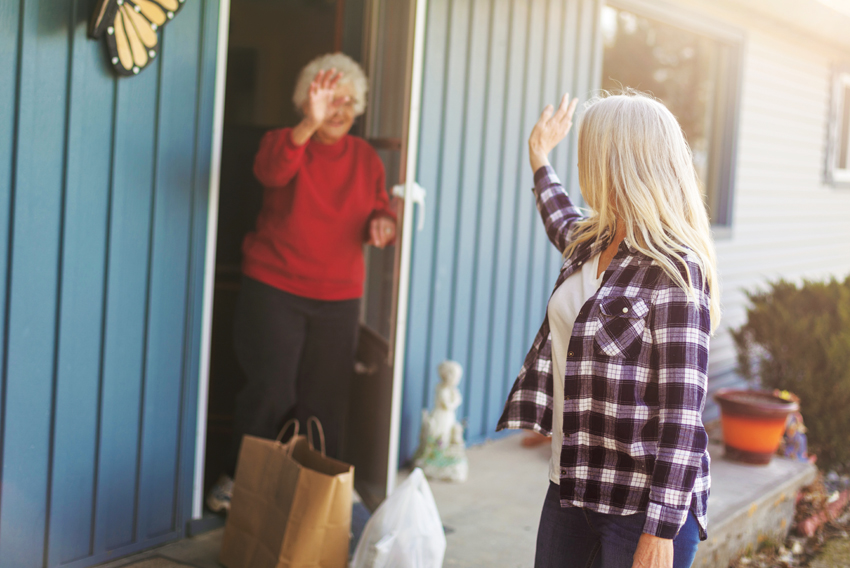 In small-town BC, it is tradition to look out for one another. From lending an egg to a neighbour when they realize mid-baking that they are out to organizing a fundraiser for a family who is having a hard time, people come together, forging a strong sense of community.
The past few years have been tough on small towns in the Cariboo region of British Columbia. Devastating forest fires in 2017 and 2018 dealt a major blow to our primary industry, contributing to the recent closures of local sawmills and curtailments of shifts and production at other sawmills due to damaged wood lots. The opioid crisis continues to impact many in our region, and a lack of local mental health resources causes further struggle. Landslides, floods and the COVID-19 pandemic have added to these challenges.
And yet the people of Quesnel persevere with compassion. Paper hearts symbolizing encouragement and unity brighten the windows of homes and businesses, helping to combat disconnection as we all do our part to physically distance from one another. Soup kitchens have quickly adapted their services to safely continue to provide food to those in need. Volunteers and peers (people with lived experience of mental health or addiction challenges who have formed a strong network of support) shop and deliver supplies to others, putting their own health at risk. Community partners gather (virtually) to brainstorm how we can best continue to support the community. This is the spirit of compassionate collaboration that created the programs that we now offer at the Canadian Mental Health Association (CMHA) office in Quesnel.
With the recent hardships facing our little town, community members and supporting organizations saw an increasing need for mental health supports and food resources; they came together to brainstorm solutions. This heartfelt action spearheaded the creation of meaningful programs, inspired directly by the needs of the community. These strong advocates forged a partnership with CMHA Prince George to create a satellite office in Quesnel. As a result of this dedication, the CMHA Quesnel office is now offering mental health and food coordination services.
In October of 2019, our CMHA Quesnel office officially opened, receiving a warm welcome from the community. Starting something new is daunting. Having strong co-workers and the support of CMHA Prince George, the Red Cross and our community partners and peers gives us the strength to persevere.
Quesnel is a unique community. Though it has faced multiple challenges and devastating losses over the past few years, its heart is strong. The ripple effects of the wildfires are still felt. The Clinical Program Coordinator supports those in the community impacted by the fires, providing mental health services such as one-on-one counselling support, crisis intervention, advocacy and psychoeducation (both individual and group), as well as informational presentations. Topics include mindfulness, emotion regulation, coping with anxiety and depression, goal setting, communication and relaxation. Other services offered include Mental Health First Aid training and critical incident stress debriefing.
Having the ability to adapt as needed, based on feedback from the public and community partners, is an important component of the Clinical Program Coordinator position. It is critical that people have access to services when they need them, in the moment where they are at, in a non-judgemental way. Because people may require flexible access to services, we adjust our scheduling by meeting people after hours and on weekends if necessary. We are able to meet people in the community or at a destination where they feel comfortable. The office has only three employees, and resources in the community are not always readily available, so it is imperative that we work as a cohesive unit and think outside the box. Finding ways to assist people can demand both creativity and persistence.
The food coordination program also grew out of community collaboration. This program aims to identify the food needs in Quesnel and work with partnering organizations to create food resources to meet those needs. We are still in the beginning stages of this process. The COVID-19 pandemic has created unforeseen challenges. However, we are continuing to move towards streamlining the process of "food rescue," allowing an increased amount of edible but unsold goods from local grocery stores to make their way to community members in need. With the guidance of our Community Food Coordinator, we are working towards creating more space for community kitchens, food skills training and the sharing of traditional food practices—with an emphasis on peer-led programming, low-cost food solutions and empowerment. We have been inspired by the ingenuity and passion displayed by dedicated community members working hard to feed those in need. We are incredibly fortunate that so many organizations and individuals are not only willing to collaborate with each other but excited about the opportunity.
Living in a small town provides us with unique opportunities to draw on our individual strengths to find creative solutions, working together alongside the people we support in the community we call home. Whatever challenges we face, we are determined to do what we can to give back to the community and support the individuals and community partners who have supported and believed in us.
About the authors
Stephanie was born and raised in Quesnel. She has worked in the social services for 20 years, the last six of which have been in the field of mental health at a low-barrier shelter and a community mental health and substance use office. She is currently the Clinical Program Coordinator with Quesnel's CMHA office
Kirsten grew up in the Cariboo region of BC and returned there in 2010. She has worked in community mental health for the past 11 years, at a low-barrier shelter and a community mental health and substance use office and in private-practice counselling. Currently she is the Community Food Coordinator with Quesnel's CMHA office