Parents and youth
Reprinted from the Supporting Parents issue of Visions Journal, 2021, 17 (1), pp. 17-19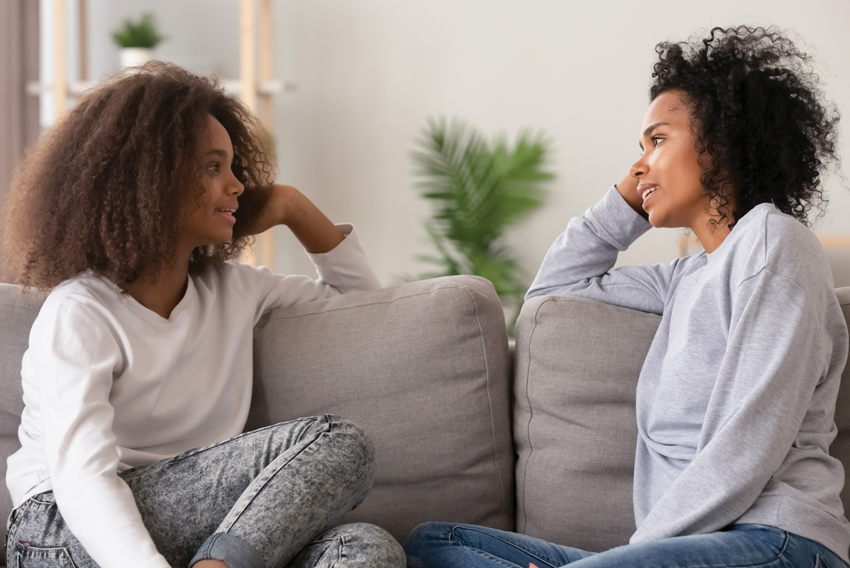 Even though body image and eating attitudes are complex, parents often navigate overly simplified myths about these issues. For example, you may believe that mothers are mainly responsible for modelling positive body image and eating behaviours, or that boys and men are not vulnerable to eating or body image concerns. If you struggle with body image or an eating disorder, you may worry that your child will inevitably have the same experience or that your own challenges will hinder your ability to be a good parent.
It is normal to have feelings of guilt, anxiety, fear, shame or embarrassment if you believe these myths to be true. But these are all blanket statements that do not take into consideration other influential factors, such as mainstream media, peers and the larger culture, that contribute to shaping a child's body image and eating attitudes.
In reality, we know that any parent or caregiver can model and encourage healthy body image and eating attitudes for their children. And while eating disorders impact more women and girls than men and boys, body dissatisfaction and disordered eating are very common across all genders.1
Further, we do not have to be "perfect," completely healed or free of our own body image or eating issues to help children develop healthy attitudes and support them with their own challenges in these areas. We can hold space for working on our own struggles while also encouraging critical thinking and thoughtful discussions within our families.
The good news is that parents can be influential in creating a supportive environment that will help children combat harmful beliefs around weight, shape and body size. Our goal for this article is to encourage you to start these conversations, be compassionate and patient as parents, and develop awareness to any blind spots and biases that are not serving you or your family.
Unpacking harmful beliefs and attitudes
A good place to start is to give yourself time to reflect on your own ideas, beliefs and assumptions about weight, shape and size. For example, do you hold different assumptions about a person's health status, values, personality characteristics or lifestyle based on whether they exist in a small or larger body? Take a moment to think about where you learned these associations. Do your friends and family hold the same beliefs? Or perhaps the media content you consume has shaped some of these attitudes. It can be challenging and uncomfortable to ask these questions, but it is a necessary first step in assessing whether these views are based on facts and our own values, or simply ideas we have adopted from various sources around us.
Our cultural environment shapes our views, which can in turn be communicated indirectly to children through comments, reactions and behaviours. We know that children often imitate what their parents do and say, and adopt the behaviours and attitudes of the people around them.2 When parents and caregivers model or frequently talk about weight-conscious behaviours, such as dieting and restriction, their children are more likely to show signs of body dissatisfaction and engage in eating disorder behaviours.3
Changing the conversation
You can work towards adopting a more inclusive attitude and be thoughtful about what you communicate to your children by becoming conscious of assumptions you may unknowingly subscribe to. Did you know, for example, that unhealthy eating behaviours and body image concerns can present themselves differently in boys, with more of a focus on leanness or a muscular physique comparisons in sports, strict exercise regimes and prioritizing athletic performance? An excessive focus on fitness or muscularity can be detrimental to mental and physical health, and it is important to be mindful about having these conversations with boys as well.
You have the capacity to shift your experience by being mindful about the amount of attention and focus you place on ideas of body image. This is not about being perfect. Rather, with increased awareness you can start to be more intentional about the messages you want to impart to your child and for yourself.
Some suggestions for parents who want to change the conversation with children about body image and eating attitudes in a positive direction include:
be mindful of your child's media consumption, and teach them that images are almost always modified and promote a particular body ideal

encourage traits and characteristics that are not appearance-based, such as kindness, ambition, empathy, curiosity or perseverance

point out that body diversity is healthy and normal

avoid making comparisons or negative comments about your own body or other people's bodies

avoid judging your child for expressing concern about their body or appearance, and be open to listening with curiosity

offer support to your child by being present and empathic. You don't have to "fix" their problems; validating their experiences can be very helpful
Remember that this is not about attaining perfection but cultivating awareness. Moving forward, we can make choices that reflect a more inclusive and compassionate attitude towards all bodies.
Body image and eating attitudes check-in
The following questions are intended to help bring awareness to thoughts and attitudes that you may be holding onto consciously or unconsciously.
Do you make evaluative comments in front of your child about your own body and appearance or the appearance of others?

Do you identify as a perfectionist and have high standards for your appearance?

Do you monitor your child's food choices or portions out of fear that they will gain weight?

Do you place a high value on your child's appearance or athletic performance?

Are diet foods, strict exercise regimes and other weight-controlling behaviours commonly talked about or available in your home?

Do you have special "food rules" for yourself or eat different foods from other family members?

Is there a certain body shape or size that you believe is the healthiest or most desirable?

Do you compare your child's body, weight, size or appearance with that of others?

Do you frequently praise your child for their appearance?
About the authors
Elvira is the project coordinator for Jessie's Legacy Eating Disorders Prevention and Awareness Program in North Vancouver, BC. Currently, she is completing a post baccalaureate diploma in counselling and human development at SFU. Elvira is an active advocate and volunteer in the mental health community
Joanna is manager of Jessie's Legacy Eating Disorders Prevention and Awareness Disorders Prevention and Awareness Program in North Vancouver, BC. She is passionate about raising awareness and reducing stigma about eating disorders
Footnotes:
Rohde, P., Stice, E. & Marti, C.N. (2015). Development and predictive effects of eating disorder risk factors during adolescence: Implications for prevention efforts. International Journal of Eating Disorders, 48(2), 187–198.
Hart, L.M., Damiano, S.R., Paxton, S.J. & Jorm, A.F. (2014). Preventing body dissatisfaction and unhealthy eating patterns in children: Strategies for parents of preschoolers. Melbourne: La Trobe University.
Hart, L.M, Cornell, C., Damiano, S.R. & Paxton, S.J. (2015). Parents and prevention: A systematic review of interventions involving parents that aim to prevent body dissatisfaction or eating disorders. International Journal of Eating Disorders, 48(2), 157–169.