Reprinted from the Supporting Parents issue of Visions Journal, 2021, 17 (1), pp. 29-31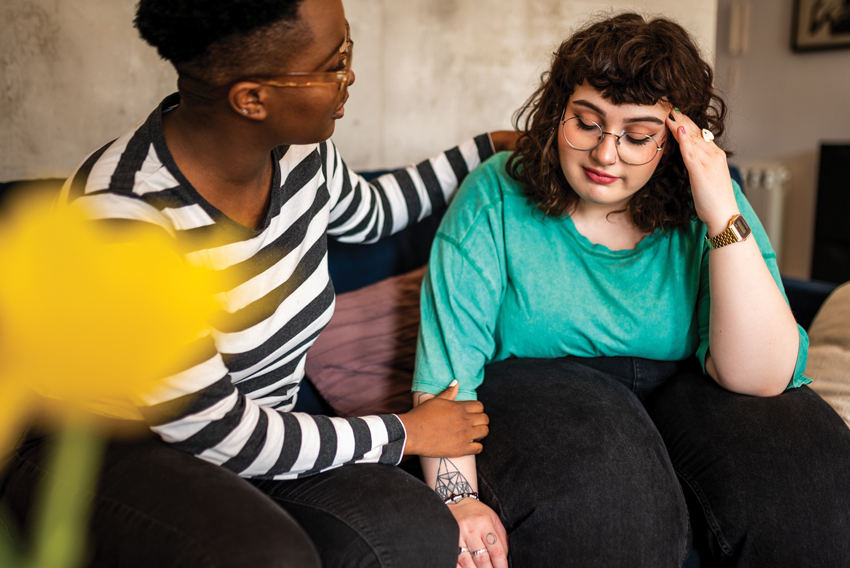 Many of you may have heard of what the media call Canada's "mental health crisis." This refers to challenges arising from meeting the needs of people with mental illness, including housing. Housing matters to people who experience mental illness. Coping with mental illness is hard, and having safe and stable housing helps.
Unfortunately, the current housing system lacks affordable housing, leading to increased homeless. Being on the street makes people who already have mental illness even more vulnerable. Many simultaneously experience substance use disorders and contact with the criminal justice system.
I want to take a closer look at one solution for ending the mental health crisis. It's called "supported housing," which refers to independent housing with outreach support and usually some tolerance of substance use. In general, supported housing consists of single-occupant apartments in medium-sized buildings. There are also apartments for couples and families, and units reserved for women and youth.
As the name suggests, supported housing includes some support staff, either from outside or on site, and sometimes meals, laundry or housekeeping services. In BC, supported housing is run by a variety of non-profit organizations, with an application process that usually starts through case managers or housing clinicians at the regional health authorities.
Benefits of supported housing
Evidence shows that, after one year, people who enter supported housing usually remain stably housed, with no increase in substance use. Actually, people generally experience a decrease in substance use, fewer mental health symptoms and fewer visits to hospital emergency rooms.1 People in supported housing (who have mental illness, substance use problems or both) also receive fewer prison sentences.2
Many people with mental illness say they prefer supported housing over residential housing, such as group housing, room and board arrangements or shelters.1 This is because supported housing respects their autonomy, while these other forms often place a lot of restrictions on residents. Further, the cost of providing supported housing for people with mental illness is lower than that of shelters and social, criminal-justice and health services for this group.
Finally, studies show that supported housing is as effectvive in housing homeless people with mental illness as it is for people with simultaneous mental illness and substance use disorder.3
Limitations of supported housing
One problem with supported housing is that it may increase social isolation because people live independently in apartments, although this can be improved by better use of common spaces. Also, unlike residential housing, in supported housing health and mental health services are mostly available on an outreach basis instead of on site. The main implication of this is that people need to manage their own medications, which can be a challenge. However, there are ways to improve self-management of medication, such as through the use of blister packs.
Another issue is that not all supported housing is subsidized. The rent can be too high for some people, who can end up being discharged back to the community, into shelters or onto the streets. Considering that supported housing is a long-term, effective solution to the mental health crisis, there should be an increase in subsidized supported housing and a larger supply to reduce wait-list times.
Connecting with voluntary integrated services
Homeless people with other disorders are often willing to go for treatment if services are tailored to their needs. Many people respond well if services integrate subsidized supported housing as well as health, mental health and social support, such as training in life and social skills, and occupational training. Evidence shows that use increases when these services are:
voluntary4

staffed by compassionate, non-judgemental personnel who are respectful of people's choices5

equipped to provide concurrent mental health and substance use disorders with a harm reduction approach6

diverse—for example, access to subsidized counselling and psychotherapy, as well as medication

accessible, with low barriers (i.e., no requirement of abstinence from substance use)6
Unfortunately, voluntary integrated services currently have limited spaces, making them hard to find even when people want to use them. For example, in BC, wait list times are usually three weeks or more. These services should be more widely available.
Providing adequate income and reducing stigma
Mental illness, homelessness, substance use disorder and contact with the criminal justice system all share two root causes: poverty and stigma. Poverty comes out of income inequality. Therefore, fairer distribution of income would allow homeless people to have enough income for a good quality of life. This can be achieved through policy changes to provide more accessible benefits and higher minimim wage. Of course, increased income support should go hand in hand with affordable housing. If the cost of housing is too high, even if people have better wages, they will still be in poverty.
Meanwhile, reducing stigma is a vital step in ending the mental health crisis. Stigma refers to discrimination against a person because of their characteristics, such as their mental illness or substance use disorder. Educating the public on the root causes of the mental health crisis can reduce stigma. Supported housing reduces stigma too because it tells the society that people with mental illness, homelessness and substance use disorders should not be blamed. Instead, they need a stable, safe and supportive place to stay.
Linking up police and mental health and substance use disorder teams
Coordination among mental health teams, substance use outreach teams and police can complement supported housing. Called "assertive community treatment" (ACT) teams, these groups can share information, work in mobile units and be available 24/7 for rapid response to mental health emergencies. Currently, there are five ACT teams in BC's Lower Mainland consisting of interdisciplinary professionals like nurses, social workers and psychiatrists. The Vancouver Police Department joined ACT in 2012.
One challenge of this model is effective communication and collaboration among team members, as they come from diverse disciplines and backgrounds. Having a common goal to support people with mental illnesses and substance use problems is thus crucial. Ongoing and comprehensive police training for working with people who experience multiple disorders and regular team evaluations also help.
Through supported housing, people with mental illness get a safe home base. Then, it's up to others to step up and reduce poverty and stigma, offer more integrated services and increase coordination among health services teams. Together, we can turn the mental health crisis into an opportunity for better health.
About the author
Karen Lok Yi Wong earned her Master's in social policy from the University of York, England, and a second Master's in social work from UBC. She conducts research, analyzes healthcare policy, publishes and presents widely. Currently, she is a registered social worker in Vancouver and a volunteer support-group facilitator for the Canadian Mental Health Association
Footnotes:
Davis, S. (2014). Community mental health in Canada: Theory, policy, and practice. Vancouver, BC: UBC Press.
Somers, J.M., Rezansoff, S.N., Moniruzzaman, A., Palepu, A. & Patterson, M. (2013). Housing first reduces re-offending among formerly homeless adults with mental disorders: Results of a randomized controlled trial. PloS One, 8(9), e72946.
Urbanoski, K., Veldhuizen, S., Krausz, M., Schutz, C., Somers, J.M., Kirst, M., Fleury, M.J., Stergiopoulos, V., Patterson, M., Strehlau, V. & Goering, P. (2018). Effects of comorbid substance use disorders on outcomes in a Housing First intervention for homeless people with mental illness. Addiction, 113(1), 137–145.
Chase, J. (2020). The ethics of compulsory treatment of addictions under Canadian legislation: Restricting freedom to promote long-term autonomy? The Canadian Journal of Addiction, 11(1), 6–13.
Boyd, J., Fast, D., Hobbins, M., McNeil, R. & Small, W. (2017). Social-structural factors influencing periods of injection cessation among marginalized youth who inject drugs in Vancouver, Canada: An ethno-epidemiological study. Harm Reduction Journal, 14(1), 31.
Knight, R., Fast, D., DeBeck, K., Shoveller, J. & Small, W. (2017). "Getting out of downtown": A longitudinal study of how street-entrenched youth attempt to exit an inner city drug scene. BMC Public Health, 17(1), 376.