Reprinted from the "Systemic Racism" issue of Visions Journal, 2021, 16 (3), pp. 37-39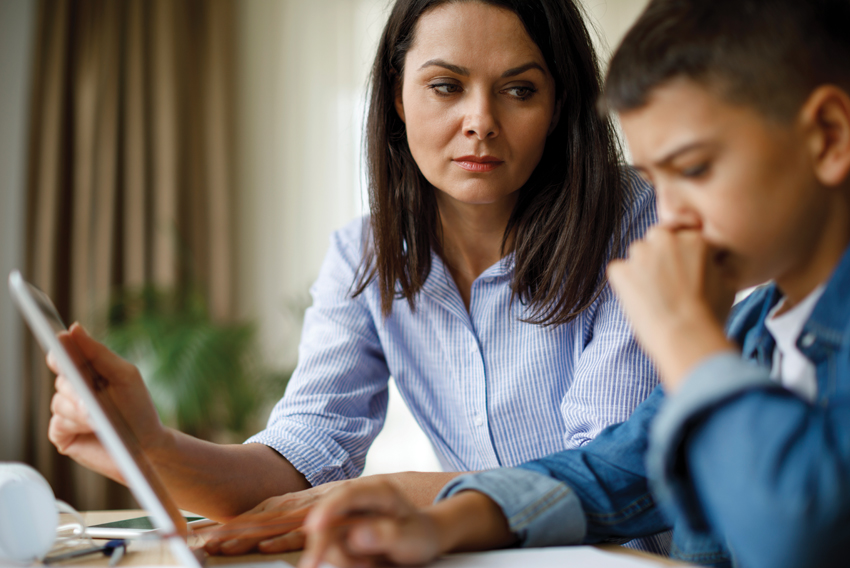 My nine-year-old son, the oldest of my three children, was diagnosed with an unspecified anxiety disorder presenting as generalized anxiety disorder (GAD) and obsessive compulsive disorder (OCD) at the age of three.
Over the years, we have been able to manage his mental health challenges effectively with the support of an extraordinary mental health and school team. Before the COVID-19 pandemic, he was steadily coping and functioning. When he had difficult periods, he responded well to support and treatment. We knew the pandemic would affect him; we just weren't sure how.
While the declaration of the public health emergency in mid-March 2020 brought feelings of grief and fear, the retail, school and service closures around the province were the easiest part for my son because everyone had the same rules: Stay home, stay safe. Outside there is life-threatening risk; home is safe.
Spending two and a half months in isolation while homeschooling was extremely challenging. However, we managed as best we could, acknowledging that our feelings were understandable, given the circumstances.
Things shifted in June 2020 because the public health rules became more individualized, which was hard for my nine-year-old to understand. For years we used the "real danger versus false alarm" analogy to help him decide if his anxiety was helpful or harmful. Usually the situation we were assessing with him was a false alarm, but COVID-19 confirmed there was real danger everywhere. Even I found myself overwhelmed with making decisions because I really didn't know what was safe; I did not feel confident in my choices.
It was exhausting to carefully educate my child in ways that wouldn't trigger his longstanding anxiety around death or his OCD around germs—both things that the pandemic made a central focus. Seeing his desperate need for normalcy, we began cautiously leaving the house. My child had a physically distant playdate outside with a neighbourhood kid, he successfully went to the dentist and he once went to an empty playground. His anxiety appeared under control and he even wanted to go to school during the voluntary return. Seeing how well he was coping, we thought we had dodged a bullet.
The downhill slide
Two weeks later, things deteriorated. I took my kids to the playground—but this time, there were strangers there. My son said there were too many people. I reassured him that it was safe if we kept our distance. The closer we got, the more he panicked. He started hyperventilating, crying and physically jumping back when another person came close. He said he was going to run home. I felt confused because he hadn't shown this type of fear response with the neighbour or the dentist.
When we got home, the panic attack escalated into anger, rage and aggression. Finally, when things settled, he expressed to us that he was terrified of others being infected and getting him sick. After that, the panic attacks were a regular occurrence. He would leave the house only to see the neighbour, who he had decided was safe. Any trip to a public space where there was risk of seeing unfamiliar faces—like a walk outside or an outing to the park—was out of the question. It became clear that the time we had spent at home during the pandemic had brought on symptoms of agoraphobia. For him, this meant going outside was so unbearable it would cause him to panic and feel like there was no escape. He became housebound.
My son's low mood quickly followed. He saw groups of kids playing outside, and the neighbour child started having sleepovers. From my son's perspective, everyone was behaving like they had done before the pandemic, and he was left out. Our isolation over the previous months had intensified for him the importance of social inclusion and peer validation. His sense of self-worth became so tightly woven with socialization that the thought of social exclusion sent him into a downward spiral. For the first time, we heard him say, "I don't deserve to live." In a few weeks, he went from experiencing manageable anxiety to fighting a dangerously low mood and feelings of low self-worth, debilitating agoraphobia, panic and generalized anxiety.
As parents, we were faced with difficult decisions. My son desperately wanted to go back to school in the fall. Should we let him go, knowing the mental and social benefits, despite the risk of a rage-filled panic attack and, possibly, his running home?
Our previous experience treating my son's anxiety had helped us identify that he needed exposure therapy. However, because this entails gradual exposure to the situation that causes anxiety (in this case, going out in public), a consequence was increased risk of contracting the virus. Because we have a high-risk grandparent we were hoping to visit, we were torn. Furthermore, how do we even do gradual exposure, intentionally getting closer to strangers, when we are supposed to practise physical distancing? After taking several deep breaths, we got out our calendars and started planning.
When the US–Canada border closed in the spring, we'd been abruptly separated from my parents. We knew that by the time they were able to cross back into Canada and complete their mandatory two-week quarantine, it would be August. If our goal was to go to school in September and not have the grandparents' visit overlap with school or my son's treatment, we knew we had July to do as much exposure as my son could tolerate.  
Taking control of the situation
We worked quickly with our psychologist to design a program that would work. We also decided with my son and his paediatrician to increase his medication.  As a parent, I tried to suspend my own fears and discomfort for what we were about to embark on; in July, we went out as often and as safely as we could. We began with brief walks outside and eventually worked our way up to entering a store with narrow aisles and strangers. Our exhausting and emotional efforts began to pay off: my son's intense anxiety and low mood began to fade. We were able to visit with grandparents for the month of August and my son was able to successfully return to school in September without any panic attacks.
But the visit with grandparents in August seems far away now. Months later, the pandemic continues to feel like we are having to make impossible choices about whose needs are more important. It's exhausting, scary and heartbreaking since there is always someone who doesn't get their needs met. Throughout all of this, we had also been keeping a wary eye on the impact of the pandemic on the mental health of our two younger children. My middle child went from being a friendly, sociable toddler to yelling at people for not physically distancing or crying to go home because he was afraid of others. Our youngest was seven months old when the pandemic was first declared; by the time he interacted with people outside our household, the equivalent of almost half his life had passed.
We continue to see my nine-year-old's mental health team virtually, helping to maintain his anxiety at a manageable level. So far, so good: his sense of self-worth has improved and we get to hear him laugh again. My other two children have also improved. The regularity of seeing familiar faces when we drop off and pick up my oldest child at school has had a significant impact. What we are doing now is preparing and bracing for the possibility that in-person school classes will be suspended. The pandemic has taught me how quickly my children's mental health can turn; therefore, I constantly watch for signs that their stress level is increasing; I try to soak up the moments of calm because I don't know what's around the corner.
Keeping an eye on the long-term goal
Seeing the negative consequences of the pandemic on my children and our family dynamics forced me to look forward. I wondered how this time in their lives will influence who they become in the future. I asked myself, What do I want for my kids after the pandemic? If I want them to be able to go to school, socialize with friends and participate in all the other things that life has to offer, then we had to focus on their mental wellness, and—oddly enough—help them develop a healthier relationship with the virus. Once I realized this, even though our choices were painful, decision-making became easier.
For us, this meant allowing our son to attend school in person, even though that meant an increased risk to COVID-19 and no more visits with the grandparents until there is a vaccine or in-person classes are suspended for a significant time.
Using a forward-thinking lens has helped me play the long game, adjust expectations and centre my family's lives around our mental health. Despite the rising case numbers in the fall and winter, I decided to continue taking my two younger kids to the grocery store and to the playground so that they continue feeling comfortable around people. I am careful to use hand sanitizer when we need to, while being cautious not to instill fear. My long-term goal of minimizing the negative mental health impact of the pandemic on my children helps ground me when I'm making hard decisions.
Some days, the best I can offer is normalizing my emotions, reminding myself that everyone is riding the same anxiety-provoking rollercoaster. I try to show my children how I care for myself. I say what I'm feeling—whether I am anxious or overwhelmed—and then I tell them how I intend to care for those feelings. I might let them know I'm going to take a few moments to myself on the couch, or that I'm going to try to go to bed early and get a little extra sleep.
How I think, feel and behave influences how my kids make sense of the world. This serves as my motivation to intentionally take care of myself. I don't always get it right, and I can't always protect my children from struggling with their mental health. What I can do is show them what it looks like when I care for my feelings. Hopefully, this helps them to build their own resilience, reinforcing the skills they need to get through this.
About the author
Sarah is the mother of three children, one of whom was diagnosed at an early age with an anxiety disorder. She lives in the Lower Mainland, is a registered social worker and works to support parents and caregivers who have a child living with a mental health concern
*pseudonym