A community art show about overdose
Reprinted from the "Youth Facing Health Inequities" issue of Visions Journal, 2020, 15 (3), pp. 29-32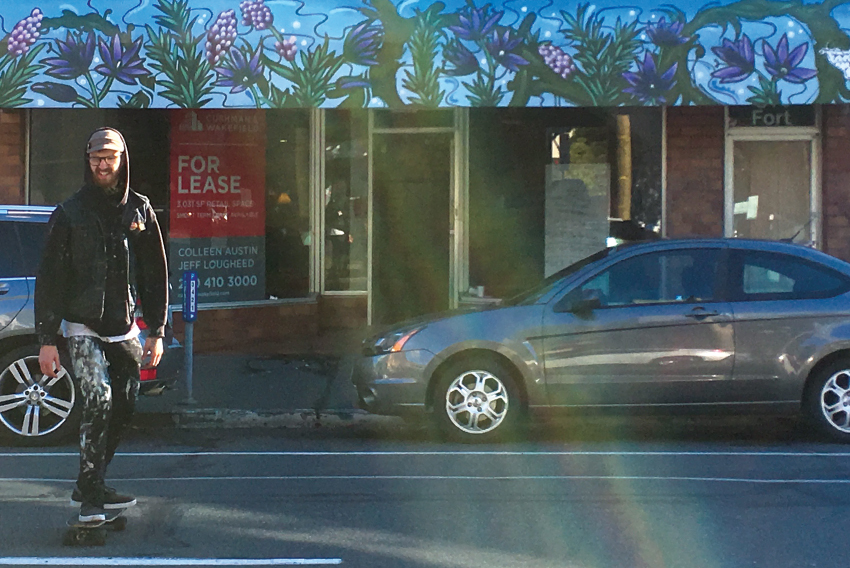 This is the story of heART space, a pop-up art show intended to help youth and others deal with the loss associated with overdose.
For the three weeks in October 2017 that heART space occupied the ground-level floor of its downtown Victoria venue—and in the preparations leading up to the show's opening and the discussions the show generated—heART space offered a place to grieve, to heal and celebrate life. It also offered a space to educate ourselves and others about health care and community resources, to gain valuable employment and research experience, to feed the body (with food and drink) and the soul (with art and conversation) and to make enriching connections with people we may never have connected with otherwise.
Many youth in BC have been affected by overdose through the loss of someone they know. The introduction of fentanyl into the drug supply has dramatically increased drug-related overdoses and deaths in Canada and the US.1,2 From January 2016 to March 2018, nearly 10 people died each day of an illicit drug overdose in Canada.3 In British Columbia, unintentional illicit drug overdose deaths increased from 211 deaths in 2010 to a staggering 1,489 deaths in 2018.4 Twenty percent of those who died were under the age of 30.4
This increase in overdoses has affected smaller communities in BC as well as communities in Victoria, Vancouver and the Lower Mainland.4 In 2017, CISUR researchers went into several smaller communities in BC and asked 450 youth (many of whom used drugs regularly) about their concerns; 76.5% were concerned about overdose, either for themselves or others in their lives.5
I have worked with youth as an outreach worker for over 15 years and for many different agencies. One of these is the Victoria Youth Clinic, a drop-in medical clinic for youth ages 12 to 24. While I was there, several youth I knew well and cared about died of overdose. Some youth have lost 10 or even 20 or more people in their life to overdose.
I approached several young people I had contact with and asked if they would form an advisory group to help guide my PhD research about grief. Naomi Kennedy, an advisory group member and local artist, suggested that we do an art show "with art [by] people who had lived on the streets [and] who [had] died." From there, the idea grew.
At the time, the BC Ministry of Public Safety and Solicitor General was providing funding to support community dialogues in response to the opioid crisis. When I put forward a proposal to the advisory group, the group was excited to try to get provincial funding.
We wanted people to come to dialogue, to explore grief and to learn more about the ways we could support each other, our friends, families and communities, around issues of drug use. We decided to call the show "heART space," an invitation from young people who intimately know about drugs, death and grief to the community, to share their experiences of overdose. We reached out to community groups and people who had been directly affected by overdose deaths. Their ideas and support helped us to receive provincial funding of $7,500.
We started a Facebook group and sent out posters to community agencies where we knew both staff and clients had lost loved ones—like AIDS Vancouver Island (AVI) and SOLID (Society of Living Illicit Drug Users)—as well as shelters and service providers. We also asked friends and family members of those affected by overdose to contribute art—either works by those who had died of overdose or works memorializing friends or family members. Local news media picked up the story, and word spread.
We secured the storefront of a building on Fort Street in downtown Victoria, which had been used for collaborative projects before. The front entrance is protected from the rain and is one of many on Fort Street where youth and others have slept at night. The Victoria Cool Aid Society (a local emergency and supportive housing service provider) lent furniture. Soothing lighting enabled us to hold various healing sessions (including hand drumming, guided visualization, art therapy and prayer circles) and provide a comfortable place to chill out.
The Art Gallery of Greater Victoria let us borrow frames and plinths so the artwork could be shown well, hung with care—even protected with plexiglass! The owner of the building offered to pay to create a mural to improve the entryway. Victoria artist Kay Gallivan, who has created many mural projects in Canada and Mexico, collaborated with local artists Colm Knight and Lindsay to paint camas lilies, Garry oak and lavender to honour the land and local landscapes.
Naomi Kennedy and Michael Roos created an altar inside the space, including various sacred objects and a mixed-media installation of a tree to honour those who had died (see photo, next page). Kage, one of the youth volunteers, cut out a series of small paper birds; if guests felt inspired, they could write or draw their thoughts on one of the birds and then hang the bird in the tree.
Volunteer curators Bradley Clements and Jennifer Robinson, Naomi and I met with the folks who came to drop off art works. We heard the stories of the pieces and those who had died—daughters and sons, nieces and nephews, brothers and sisters, clients, co-workers and friends from all walks of life. We wrote up the narratives and printed placards on card stock for each piece so that everyone could read the stories behind the art works.
The art was incredible: paintings in oil and acrylic, pastels, photographs and videos, carvings, sculptures, hand-made puppets, an exquisite blanket box. All in all, we were able to display more than 40 pieces of amazing work.
We were grateful and honoured to have the Unity Drummers and Joan Morris, a local Songhees Elder, provide a traditional welcome to the Songhees and Esquimalt territory for the guests who attended the opening of heART space. An Indigenous pipe ceremony blessed the space, and candles were lit whenever people were present. In many ways, the space became sacred, a special place to reflect and talk, grieve and heal.
Cedar brushing sessions with Gerry Ambers (a Kwakwaka'wakw Elder) and Wayne Seward (from the Snuneymuxw First Nation) and creative art and healing workshops were also held. Lindsay Delaronde, the City of Victoria's Indigenous Artist in Residence at the time, co-facilitated a three-week mask-making art therapy exploration with Naomi. The workshop focused on transformation through creative activity. Local teacher and spoken-word artist Marie Specht hosted "Performing Our Grief: Spoken Word and Mask Performance," an opportunity for youth and others to sing and play music, dance, do spoken word poetry and share performance with the masks.
Throughout the show's preparation and run, many people volunteered their time and skills—students from social work, child and youth care, Burning Man rangers and organizers, my PhD supervisor Lisa (with her big truck), various friends and community workers, including folks from AVI. Caring volunteers acted as "space-holders," ensuring that the heART space remained a safe and quiet sanctuary for those viewing the art and sharing their experience.
Thanks to the hard work of curator-and-very-worried-mom-of-a-struggling-teen Lorilee Wastasecoot, and other volunteers who also gave tirelessly of their heart and their energies, we received many donations from businesses and individuals (of food, drink, art and cleaning supplies). It was also amazing to have provincial funds to pay the youth involved in the project. This honoured their time and helped legitimize their work experience, which they were able to add to their resumés.
For the duration of the show's run, people of all shapes and sizes, backgrounds and knowledge about drugs and overdose wandered in, stayed and looked at the art and read the placards. Some returned more than once to view the works, engage in conversation, get some food or a coffee or work on an art piece they'd started another day.
Advisory group member Meagan Gabriel made posters for over 20 events, including workshops on how to use naloxone, and open art studios with free art supplies. An alternative girls' school that had lost a classmate to overdose came for a tour and discussion about grief and loss. AVI held one of its staff meetings in the space, and a University of Victoria research team hosted palliative care doctor Naheed Dosani, who spoke about social justice and end-of-life care for the homeless.
The Ministry of Mental Health and Addictions and Island Health hosted a day of consultation that saw close to 20 people with lived experience participate in a dialogue about relevant issues. Later, ministry coordinators commented that the cozy and comfortable, humanizing environment of heART space was exactly the model that people with lived experience of substance use pointed to when asked what they were looking for in terms of a place that could provide safe consumption and other services.
We also hosted a stakeholder meeting of people who work for youth agencies and people in government to talk about safe consumption sites (SCS) for youth under 19. Currently, there are only a handful of SCS in the province for adults who use drugs; there are even fewer places where youth can receive the same sort of care.
When the art show came to a close, families, friends and youth connected again as the art pieces started to leave heART space. Many shared hugs and tears as they re-told stories and shared memories, gave each other hope, said goodbye. People who had been feeling too vulnerable to come in person posted on social media to say how much they appreciated the pictures and stories posted almost every day on Facebook.
When the space was finally cleared, Naomi carefully took down the tree and all the paper birds in its branches. That night, several of us participated in a Hallowe'en community bonfire to burn the paper birds and the tree limbs and release into the night sky the lives we had celebrated and mourned and the wishes we have for them.
Since heART space, there have been more dialogues about opioid use, advocacy and support. To find out more, see www.uvic.ca/research/centres/cisur/projects/opioiddialogues/index.php and www.momsstoptheharm.com. To see more photos and videos of the heART space project, please join us at www.facebook.com/groups/Heartspacevic/.
I know that for me and for many others, heART space will have a special space in our hearts forever.
About the author
Marion is a post-doctoral fellow at the Canadian Institute for Substance Use Research (CISUR). She is also a research coordinator at the Cool Aid Community Health Centre. Her dissertation research focused on street-involved youths' use of social media to deal with grief and loss. To stay sane, she teaches dance